Lucky Keno
BINGO! This bingo game is all about the numbers. For those who love traditional bingo, Lucky Keno is the greatest online version. With the same buzz and excitement as going to bingo with your friends, Lucky Keno is not a game to be missed. It's a traditional, lottery style game which is fun, bright, colourful and exciting. It's really easy to play and is nice and straightforward making it a great game for beginners and experts alike. Simply select 10-20 numbers between 1-80 and await your lucky fortune. The more numbers you guess correctly, the bigger your prize will be. The chances of getting a win is highly likely and there are lots of significant rewards waiting for lucky gameplayers.
About the Developer
Pariplay is one of the most popular online casino operators across the globe. This online casino operator is the creator of lots of online slots, lottery and bingo games which people continue to love to this day. Their biggest aim is to develop exactly what gameplayers want; games which are rewarding, entertaining, slightly challenging and fun. Filled with the latest technology, exciting features and thrilling designs, Pariplay's games are some of the best. Pariplay has hundreds of games for gameplayers to choose from. There are circus themed games like Jack in the Box, animal themed games like Pets and magical themed games like Zodiac Fortune. If you enjoyed this luck-filled bingo/lottery game, then you'll enjoy these titles:
100, 000 Cash Cuisine
Lucky Gems
Diamond Mine
About the Game
Lucky Keno is a lottery/bingo themed game. The numbers 1-80 are displayed on a navy blue tiled board which is also on a dark blue background. The design is simple but very bright. The balls in the game are either a shiny red or a sparkling gold. On the left side of the screen, there is a bonus wheel. The bonus wheel is very colourful with multi-coloured segments of magenta, violet, yellow, green, red and blue. Each segment reveals a multiplier prize.
When your bet has been placed, choose between 10 or 20 numbers from the pool of numbers between 1 and 80. A random number generator will then choose your winning numbers. Cross your fingers whilst you wait for your fortune to be revealed! Within an instant, the winning numbers will be revealed. The more winning numbers you match, the higher your payouts will be. If you choose to play with 10 balls, you'll have the chance to unlock the bonus wheel. You'll know when you have unlocked this feature as 3 of the balls will turn gold. The bonus wheel provides a great opportunity to win amazing cash prizes.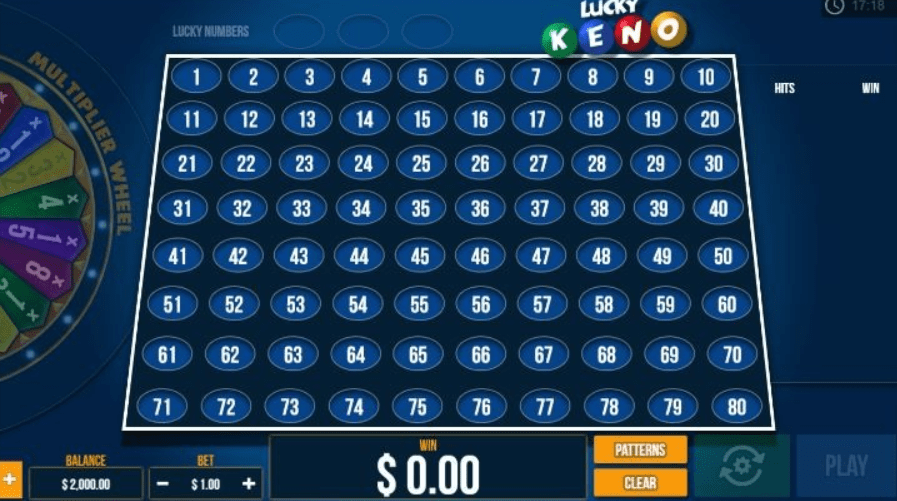 The Verdict
If you like either lottery or bingo games then you will love this combination with Lucky Keno. It's an easy game which requires little effort but can create big cash prizes. Waiting to see if you have any of the right numbers is exciting and tense. There are lots of chances in this game to win huge and amazing cash prizes. So, what are you waiting for? Your lucky numbers could make your game a true success.