Rio Bingo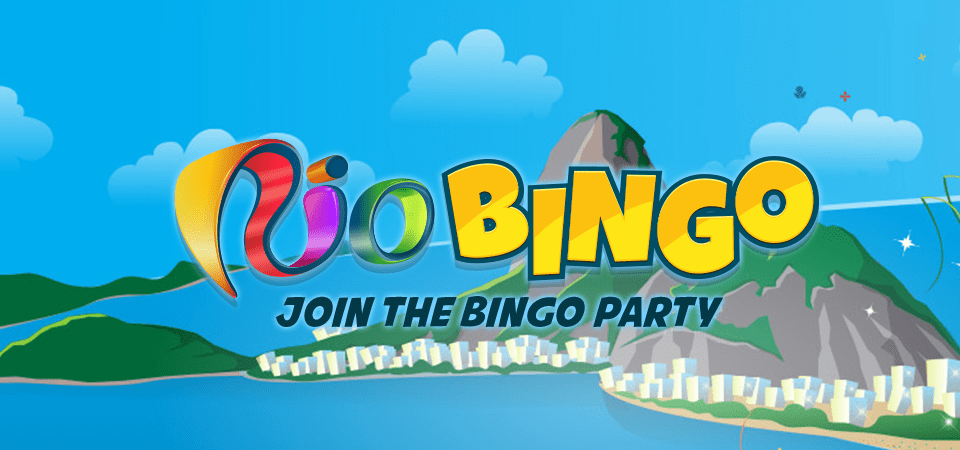 Rio Bingo is essentially regular bingo with a Brazilian twist! The game is colourful with a luscious green backdrop, cocktails, and of course the iconic Toco Toucan.
The bingo online UK game features opportunities to clench random multipliers on the cards which can make for some handsome winnings.
Rio Bingo should be no stranger to any players who are familiar with the style of Bingo that is played in Great Britain. The English version of the game has slight variations of tickets and patterns. In UK, and Rio Bingo, the game offers a 3 X 9 grid card with 5 numbered squares and 5 empty ones. And in order to win best bingo game like this, follow through by rows – that is the first row is combated in the first round, the second row in the second round, and full house in the third round.
Rio Bingo is a pocket full of fun and being mobile compatible, you can be sure to bring it around with you.
Quick Links: Twinkle Jackpot | Candy Spins | Battle of Red Cliffs Slot | Ozwins Jackpot | Boss Bingo | Gonzos Quest | Nacho Libre Slot | Guns n Roses Slots | Sugar Train

About Rio Bingo
Rio Bingo is not too different from regular UK bingo promo games. Players can choose to purchase between 1 to 12 cards and also select the corresponding amount for each of the cards. Once that is sorted, you play bingo!
Each of the cards that purchased earlier will have a 3X9 grid table on it. Within the 9 slots, 5 of them will have 5 numbered squared and 4 of them empty. The numbers that occupy the squares can range from anywhere between 1 and 90.
The objective then is to hit all the 5 numbers on the maximum number of lines. 'Full House' which is the best possible outcome means you have hit every single number on the card, fully conquering all 3 lines.
Line prizes are revealed in stages. But the more numbers you scored, the better the prize. This will happen in 3 stages: first 15 balls, second 15 balls, and thirds 15 balls. After all 45 balls are picked, the game ends which means it's time to collect the prizes.
The game is that simple and straight-forward! There are additional features that help quicken the pace of the game if that is something you would fancy. There are options like auto bet function that pre-arranges your bets and number of cards for as many rounds as you like. That is more of a cumulative quickening process. On the other hand, you can speed up individual rounds with the 'quick play' button.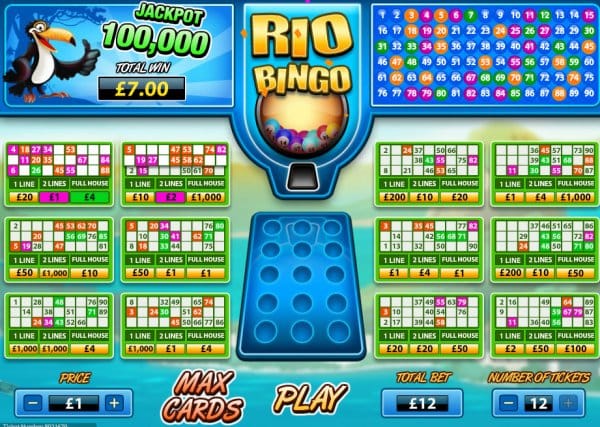 Why you should be playing Rio Bingo
Rio Bingo is a great game for Bingo enthusiasts looking to jazz up the interface and gaming experience. It is colourful and vibrant, which adds a great and refreshing touch to the repetitive nature of the game. The returns can also be massive if you're lucky or persistent enough. Although the norm for winning on your bet tends to be 16x of your original stake to 45x of your original stake, it is even possible to win up to 6000x of your original stake. That would mean on a £2 card buy, there is a chance of winning £12,000! Not too shabby at all, we say.
If you enjoyed Rio Bingo why not try - Twin Spin.