Viva Mundial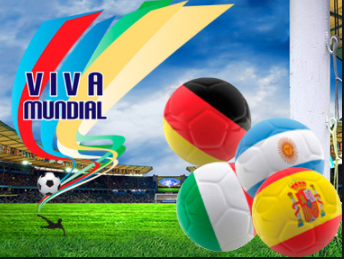 This is your chance to shoot and score with this easy to play football inspired game that puts you at the heart of the action! If you love football you will love this take on a classic UK bingo online scratch card brought to life by Pariplay. Search the grid and find a matching trio of colourful footballs to win a cash prize. How much you could walk away with depends on your stake and how lucky you are!
QuickLinks: Carnaval | Very Merry Christmas | 7s to Burn | Goldwyn's Fairies Slot | Lucky Irish | Centurion Slots | Zodiac Bingo | Pixie Slots | Pyramids of Giza

About the Developer
Founded in 2010 and based on the Isle of Man, Pariplay's in-house development team is responsible for over 100 different free bingo games online and continues to add new titles to their growing portfolio on a regular basis. In addition to a range of highly original themed slots, Pariplay is making a name with its instant win, bingo and scratch card based titles, exploring a range of game play styles and openly embracing the available diversity.
If you enjoyed this game from Pariplay you can try more of their titles on our site here:
• Fish and Chips
• The Alchemist
• Poker Dice
More of Pariplay games on site with exciting bingo offers UK players can't decline!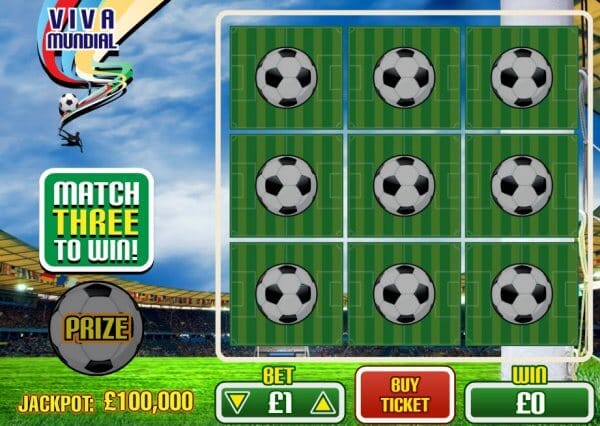 About the Game
Are you a football fan? Looking forward to the World Cup? If you can't wait, it's time to get a fix in the meantime! Viva Mundial is a scratch card format with a footy flavour, so lace up your boots and get on that pitch!
No need to worry about a complicated rule book and potentially ending up offside. This is the most straightforward game you can play. Setting your stake is the most important first step as this will determine the maximum jackpot amount you can win. You can stake between 1.00 and 10.00 on your card, playing for a jackpot that's a maximum of 10,000.00 on the 1.00 stake and an incredible 100,000.00 coins on the 10.00 stake – definitely more the kind of sums a pro footballer would be expecting!
Once you've settled on your stake you can start to play. You are faced with a 3x3 grid displaying identical footballs in each box. The plain footballs conceal balls decorated with the flags of world cup teams, so you'll see the colours of such great teams as Germany, Argentina, Brazil, Italy, France and England, among others. It doesn't matter if you're not sure which is which though. To win, all you need to do is find three that are identical, so carrying the same flag.
Once you've placed your chosen stake, you simply click reveal all and hope you'll see the three balls that match. Your prize is randomly set per game, so the cash amount you'll receive will vary and part of the excitement is not knowing just how much you might score!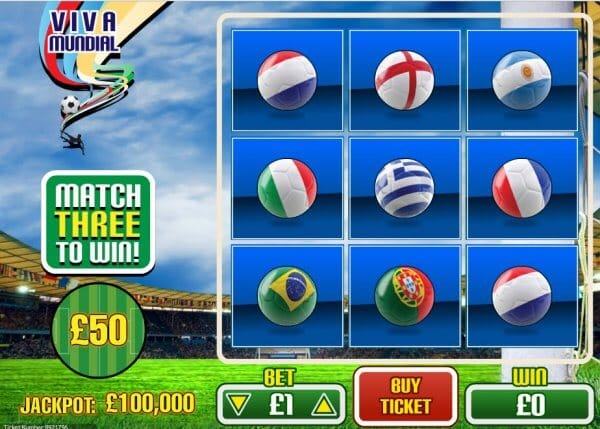 The Verdict
If you're a player who just wants to get straight to the heart of the action, Viva Mundial is the game for you. Whether you're an ardent football addict or barely understand the basics of the beautiful game, this is one scratch based concept that is simple, fun and offers potentially huge rewards for a modest outlay.
If you enjoyed Viva Mundial, try a rather fluffy game for a change - click here.