Having a strong understanding of the market and how it works plays a vital part in the success of any bingo online casino. Getting a better grasp of the market enables us to give our customers exactly what they demand. So, obviously that's something that is important to us here at Barbados Bingo. With the total gross gambling yield rising by 0.7% on the previous year to a whopping £13.9 billion. Suggesting one main thing, the gambling industry is continuing to show a growth in demand as more players are willing to deposit and try their chances.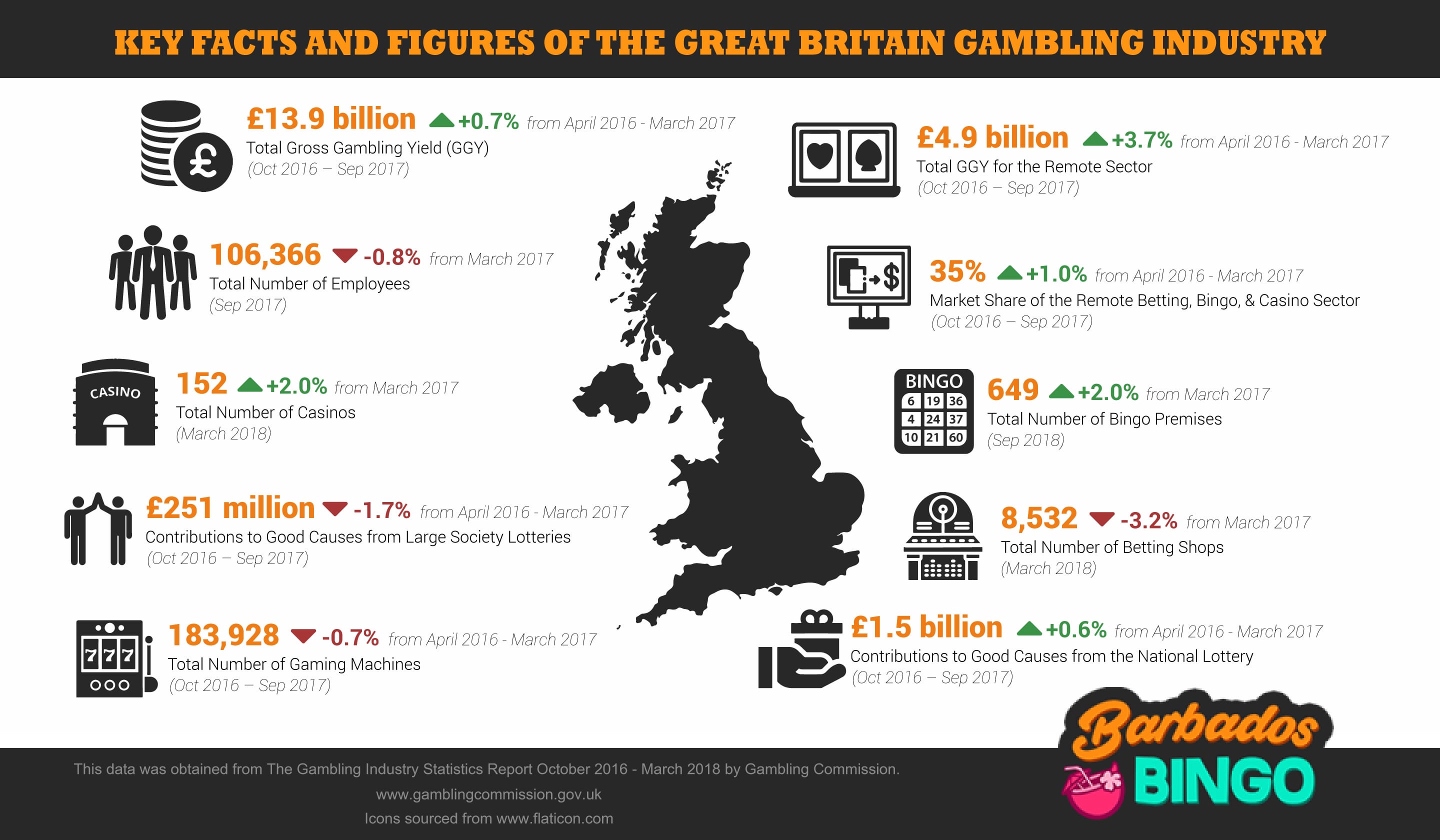 UK Casino Facts & Figures.
We collected our data from the Gambling Industry Statistic Report for October 2016 to Match 2018. Noting a range of significant figures and changes within these bingogames statistics. But, only a handful could make it to our Info graph, so we focused on the ones we found most relevant and interesting. For example, the total number of casinos rose to 152 by 2.0%, again suggesting growth. However, conflicting evidence showed a fall in total employees by -0.8%. Reasoning behind this could be the integration of both land and online casinos or it could be something as simple as being overstaffed in the previous year as 0.8% is a small change.
Furthermore, the total number of bingo premises rose by 2.0% where as betting shops fell by -3.2%. This could suggest that bingo is becoming the more popular choice, hence the growth. However, as we delve further into the stats there is over 10 times as many betting shops, a total of 8,532 compared to 649 bingo premises. So the decline in shops may be a result of such fierce competition in compared to the relatively small amount of competition faced by bingo premises in Great Britain.

The Verdict
As we draw our findings to a conclusion, the report and our produced Info graphic has a wide variety of stats and figures. Sometimes offering conflicting statements when we pair two of them together. So the reasoning behind these stats is very much so up to your own judgement.