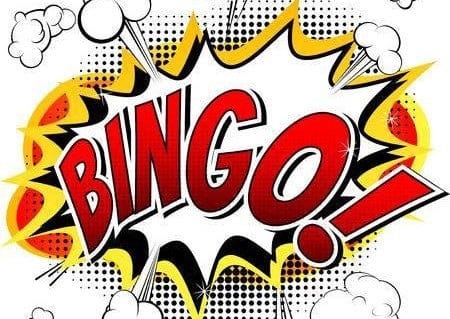 You've probably heard all kinds of free bingo no deposit slang and lingo if you've been around it before, but not all of it is actually serious: a lot of the time, the slang comes from various jokes, and there's some funny terms out there for different bingo caller numbers, winning results and even certain game types of rules! Here's an explanation of what they mean and where the original jokes came from.

Where will I hear bingo jokes?
Whether you play offline or online bingo, you might have heard some of these before, but there's always more terms you won't have learned. Here's just a sample of some of the bingo-themed humour that floats around on the internet.
Playing Bingo, Calling Numbers
One of the most common things that gets called out is the numbers, but did you know that there's a unique joke term for every single number that can be called? That's not an exaggeration: in 90-ball bingo, every single bingo number has its own joke term that can be used when calling bingo numbers, and a lot of bingo players are familiar with at least a few of them.

What calls are there?
There are some obvious bingo call names, like 7 being Lucky Seven, but you get more direct jokes like 37 being More Than Eleven or 65 being Old Age Pension. One of the older names for 80 is Ghandi's Breakfast, hinting that he 'ate nothing / eight nothing'.
Alongside this you get 88 (Two Fat Ladies) and 89 (Nearly There), among others. Some of them are obviously jokes, others are just quirky names, but they're all based on either a song, the appearance of the numbers or how important those numbers can be in your average bingo game.
UK Calls
That's not all, either. Funny bingo number names in the United Kingdom have been popular for years - some other weird or unique bingo number calls from history include:
52 / "Danny la Rue" (or alternatively, "Weeks in a Year").
17 / "Dancing Queen".
42 / "Winnie the Pooh" (sometimes also "That famous street in Manhattan").
10 / "Prime Minister's Den" or "Downing Street" (usually, the Prime Minister's name is the name of whoever the current UK Prime Minister is, but some people also use the names of old Prime Ministers that they didn't like).
18 / "Coming of age".
80 / "Eight and blank".
83 / "Time for tea."
40 / "Life begins" (a reference to the famous, and sometimes mocked, phrase "life begins at 40").
76 / "Trombones".
23 / "Three and me."
20 / "One score" (score is sometimes used as a replacement for the word "Twenty").
33 / "Fish, Chips and Peas".
Bingo Jokes About Players
Another fairly simple one that turns up a lot is "How do you make a little old lady curse? Make another one say Bingo!" The fact that such a large number of older ladies play Bingo hasn't gone unnoticed, and there's a lot of bingo jokes based on them, and some are nicer than others. All bingo players get this kind of treatment, and these jokes usually poke fun at stereotypes or the way that certain age ranges and social groups usually end up playing the games.
New York Bingo Caller
Another popular one is referred to as the "New York Bingo Caller", and goes something like:
One day, a man is hit by a bus on a busy street in New York City. Bystanders crowd around him, and the man's dying wish is to be blessed by a priest. The police officer on the scene calls for a priest, but nobody answers - there's none in the crowd. Suddenly, a guy who must be at least eighty years old seeps out and says "Mister Policeman, I'm not a priest. I'm not even a Catholic, but for at least fifty years now I've been living behind St. Elizabeth's Catholic Church on First Avenue. Every night, I'm listening to the Catholic litany, so maybe I can comfort this man."
The policeman agrees and lets him past, at which point the man knees down and solemnly called out "B-4. I-19. N-38..."
Ladies' Only Night
Sometimes there's going to be jokes based on the players themselves, too. Expect a lot of "Ladies Night" hints at certain bingo sites, as well as jokes about it being "Little Old Ladies Night" if there's a lot of older women playing.

All Blonde's Night
We've all heard the jokes about blonde ladies being bad players, but there's one famous example that gets repeated often in bingo halls:
The All Blonde Bingo Hall was running a game, but not one person had called a bingo for the entire night. The game kept going for hours, and none of the blonde ladies in the hall called. Annoyed, the bingo caller stands up and throws the bingo machine straight off the stage, shocking all the players. He shouts out "I called every single ball in this bingo machine, and nobody has a bingo? What number are you waiting for?!" and the ladies reply, all at once, "FREE SPACE!".
The Bath Story
There's another, longer joke focused on a bingo-playing lady that turns up on certain sites occasionally too:
A young, attractive and married woman wants expensive clothing, rare jewels and a car to match, but her poor husband doesn't have the money for such things. Later that day, she comes back after being out for hours wearing a nice gold necklace. Her husband asks her where she got it, and she replies "I won it in a bingo game."
The next day, she does the same, returning with a luxurious mink coat. Again, her husband asks her where she got it, and she relies with "I won it by gambling in a bingo game!"
The day after, she comes back home again, driving the fanciest Mercedes Benz car you've ever seen - a vehicle that the husband would need to make a hundred times more money to ever afford. Suspicious, he asks where she got it and she replies "Bingo, stop asking me! Go and run a bath, I need to rest and relax."
Later, when the bath is ready, she wife comes in to find that there's hardly any water in. She demands an explanation and the husband simply says "I don't want your bingo card to get wet!"
The type of bingo jokes you'll hear really depends on the environment you're in: one bingo hall or bingo site might have completely different attitudes towards certain joke types.
The 10 Commandments of Bingo
The 10 Bingo Commandments is another joke that gets passed around a lot, parodying the famous Ten Commandments with a bingo spin on them. They generally go:
Thou shalt not take thy neighbour's lucky seat.
Thou shalt not keep at thy neighbour's bingo card.
Thou shalt not take the Caller's name in vain.
Thou shalt not falsely call Bingo.
Thou shalt not wish bad bingo luck on thy neighbour.
Thou shalt not threaten the Caller.
Thou shalt not steal thy spouse's money for bingo.
Thou shalt not brag about thou's winnings.
Thou shalt not whine about thou's losses.
Thou shalt not covet thy neighbour's wins.
Bingo Jokes on Sites
Sometimes it's the online bingo sites that make the jokes, not the players! There's the usual puns in game names and bingo rooms, but some will go a step further and create their own joke games. This can be anything from a joke game as part of an April Fool's prank (complete with an absurd bingo prize that clearly isn't real) or something much more inventive, like a site that offers players a way to play with a card that marks every space as "FREE SPACE". You're obviously not going to be playing bingo for real with these games, but there can sometimes be real winnings, especially if the game itself is so ridiculous and out-of-place that players actually try to win.
Easter Eggs
There can be other goofs and jokes in specific games too, like the developers changing the title as part of a seasonal event or adding in some hidden easter eggs if you mess around with some of the background graphics. They're nothing too extreme, since they don't want to stop you from being able to play bingo, but it can be a nice gag to lift your spirits if you've having a few losses in a row.
Still, a lot of these jokes come straight from the community. Whether they call bingo numbers names or focus on telling stories about players, there's always somebody who's ready to tell a brand new joke about their favourite pastime, and bingo is definitely the form of gambling with the most humour running through its community.
*Any Free Spins/Welcome Bonuses References are subject to the following: NEW PLAYERS ONLY, MIN DEPOSIT £10, MAX BONUS EQUAL TO LIFETIME DEPOSITS (UP TO £250), 65X WAGERING REQUIREMENTS AND FULL T&CS APPLY