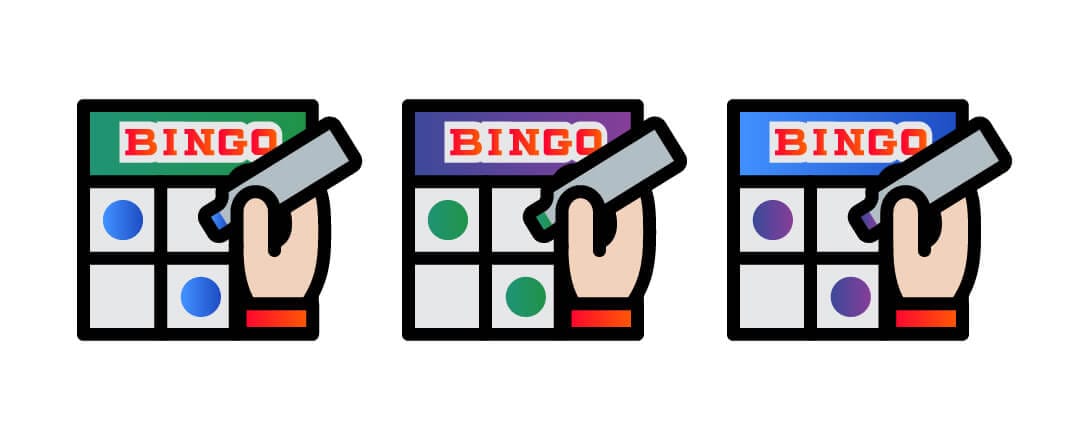 There are so many different online bingo games to play online these days, any fan of the game simply has to check them out.
Bingo games have a long history and have developed across numerous continents over centuries. Thankfully, the best of the bunch are available to play online right here at Barbados Bingo. What's more, our bingo rooms are kitted out with exciting themes and jackpots to really spice things up.
You may only know one type of bingo! Don't worry, you are not alone. The exciting thing is there are many varieties to try that each offer something unique. The bingo game you find most exciting could be hiding right around the corner. Let's check out some of the most popular versions of this great game.

90-Ball Bingo
90-Ball Bingo is the version of the game traditionally played in the UK. Many UK players will only know this variation, and different bingo games could be unknown to them. When playing online bingo at an online casino, you are bound to find a number of variations of 90-Ball.
The game uses a 9x3 bingo ticket with a mix of blank and numbered squares. Players will typically be looking to cross off one line of numbers, then two lines, and then the full ticket, which is known as a full house.
It is understandable why players may stick to the classic 90-Ball game. Although brick and mortar bingo halls are still alive and kicking, they peaked in popularity in the mid-to-late 20th century. 90-Ball games up and down the country were huge in this period and its legacy lives on in the online sphere, maintaining its popularity today.
75-Ball Bingo
75-Ball Bingo works a little differently to other bingo games. For players from the US, the 75-Ball format is their usual setup. For British players on the other hand, the card layout and winning combinations might feel unfamiliar.
In a similar fashion to the UK's relationship with 90-Ball Bingo, 75-Ball was huge in the US in the mid-20th century. The game consists of a 5x5 grid packed with numbers – no blank spaces in this game! That is, other than the central space, which serves as a wild and may be represented by a star.
In contrast to the straightforward winning combinations used in 90-Ball, 75-Ball is all about patterns. Players will win prizes after they cross off numbers forming patterns such as an X on the ticket, for example. Players can still win the jackpot for crossing off all the numbers and this is often referred to as a Blackout.
80-Ball Bingo
80-Ball Bingo is a slightly newer version of the game and more closely resembles the 75-Ball Bingo game. It offers a great alternative if you are looking for a slightly different bingo game that is a little quirkier and played at a faster pace.
This version of bingo uses a 4x4 ticket with no spaces. The numbers are arranged in four columns that each come with their own colour. In live versions of the game the bingo caller will usually refer to the colour and the number to help players find it quicker, e.g 'White 70!'
Once again players are looking for patterns on their bingo ticket, but 80-Ball is a little more experimental with this concept. Winning combinations include the outer four corner numbers and the inner four in the shape of a square. Give this exciting version a try if you fancy something new!
Last Thoughts on All the Different Bingo Games
Here we have highlighted the three most popular bingo games that are all on offer here at Barbados Bingo. If you have only played one type of bingo before, it is a great idea to try out new and exciting versions of the game. Each version is bound to offer something a little different.
Here at Barbados Bingo we also offer a range of different bingo rooms for each version of the game. We pride ourselves on offering a stylish setup for our bingo games which enhance your playing experience.
The 75-Ball Stars 'n' Stripes game is fitting for this classic American game and will prove to be an exciting venture for players from the other side of the pond. What's more, there are a number of different jackpot games available to play.
From incredible Bingo Millions jackpot games to our Friday Fun 90-Ball game, there is so much exciting bingo action for you to get stuck into. Get started today and see if you can strike it lucky, while don't forget to check info on online bingo free bonus no deposit!