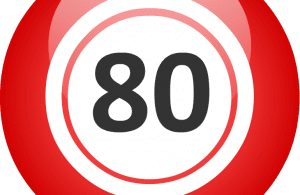 The online gaming world has opened up a whole new world of opportunities for bingo online lovers! Want to play a game of bingo but don't want to leave the comfort of your home? No problem! Barbados Bingo have a whole selection of the very best versions of bingo you could wish for! Today we're taking a closer look at 80 Ball Bingo, so make sure you read on for your bingo guide and tips for winning at bingo.

What is 80 Ball Bingo?
Now, don't make the mistake of thinking that this version of bingo is similar to that of 90 or 75 Ball Bingo, it's actually fairly different! The game has lots of exciting chances to win, and it makes a nice change from playing the other versions of online bingo out there! If you're not a big fan of traditional bingo, or enjoy traditional games with a twist then this is a good one for you!
What is the 80 Ball Bingo card layout?  
So what will your card layout look like? Well, this worth to play bingo games is played over a 4x4 layout and is made up of 16 numbers. The four columns are all different colours and have a collection of set numbers. Take a look below for a bingo guide to the layout:
The red column – numbers 1 to 20
The yellow column – numbers 21 to 40
The blue column – numbers 41 to 59
The silver column – numbers 60 to 80
How do I play 80 Ball Bingo?
Before you can even think about playing the game you'll need to sign up to an online casino that offers you free bingo no deposit withdraw winnings. This is what makes Barbados Bingo a great choice, it boasts a variety of online bingo games for you to choose from! Making an account couldn't be easier, just provide your personal and banking details along with proof of age and you're good to go! You need to be over the age of 18 to sign up to any online casino in the UK. Once you've bought your tickets to the game, just wait for the fun to begin! Once the game begins you'll need to listen out for the caller, who will be calling out random numbers. If the number is on your ticket you need to daub it off, you can either do this yourself manually or employ the games auto-daub feature and the computer will automatically do it for you! Similarly to 75 Ball Bingo there are lots of ways to make winning patterns, for example you could have a Full House win or a Horizontal Bingo Win. There really are endless opportunities for winning at bingo!
Winning at 80 Ball Bingo
Now let's answer the most important question in our bingo guide: how do I win? Well, bingo is mostly a game of chance but there are definitely things you can do to improve your chances of winning. Read on for all of our bingo tips as we impart our wisdom! The first tip is to make use of any bingo promotions and bingo bonuses. Make sure you research into what's out there, as this can greatly maximise your chances of winning. We bet any research you do into this won't beat what Barbados Bingo can offer you! They have an awesome welcome offer that sees you spin the Mega Wheel for a chance to win prizes like Amazon vouchers and cash. Other bingo promotions include a daily Cashback and Newbies Cashback Boost that reward loyal players with extra cash based on your winnings. They also offer a Free Bingo play option so you can get to know the games and play for fun without losing any money. This can help increase your chances of winning at bingo by getting some free practice in! Another one of our bingo tips is to make sure that you do your research on the game rules before you begin playing. You should never just assume that you know the rules of the game, as there are many different variants. Not knowing the rules could cost you a win! Our final tip for our bingo guide is to avoid playing during peak hours. After all, it's only logical that if you play Bingo at a quieter time then you have a better chance of winning as your odds follow how many cards are being played in a game. This could mean waking up extra early before work to get your bingo fix, or playing late at night - just play however best works for you!
Final thoughts on our guide to 80 Ball Bingo
We hope that you enjoyed our bingo guide and that you have learned something valuable to take away! Playing 80 Ball Bingo is a super fun online bingo experience. We like how it's different to 90 and 75 Ball Bingo as it feels like you're playing a brand new game! It strays away from the more traditional bingo set up, so if this sounds like something that interests you then we suggest you give it a go! Make sure that you follow our bingo guide and all of our bingo tips carefully, as they can really help to improve your chances of winning at bingo! Pay particular attention to our tip of making the most of bingo promotions and bingo bonuses. And, as we have discovered, you can play bingo online for free at Barbados Bingo. This can help you learn the rules for free and by getting some much needed practice in! This can also help you decide which version of online bingo you enjoy most without spending any of your hard-earned money. So what are you waiting for? Sign up to Barbados Bingo today and begin your online bingo adventure! But they don't just offer online bingo games, oh no, they have a big range of online slot games for you to play! So be sure to check these out once you've learn the bingo rules and enjoyed a couple of games of 80 Ball Bingo!