For many online gamblers, whether they enjoy slots, live casino or online bingo games, the term 'jackpot' invokes the fantasy aspect of an online casino experience. Many players dream of winning a huge amount of money in one spin.  And while that is quite possible, there is more to jackpots than you may think. If you like placing a modest wager and receiving a big payout in return, continue reading. We will take you through both the regular and progressive jackpots. We will also look at other things related to casino jackpot bingo.
Regular Jackpots
A regular jackpot is the highest payout on a game, but it has a fixed amount. For instance, when you land on five matching symbols on a regular slot, you are paid the pre-set value. This type of jackpot is mainly found in video poker games and slots. For a breakdown of the advantages of Jackpots, as well as the risks, read our article on the subject.
Progressive Jackpots
Progressive jackpots are not easy to win, but they can transform your life within a short span of time. They tend to have a lower payback percentage but the payout is massive which ensures that a good number of players give them a try.  When bets are placed on this type of game, a fraction of the wager is added to the jackpot. This amount continues to increase until someone wins it. Once hit, it resets to a base amount and begins to accumulate again. Usually, progressive jackpots are associated with slots and come in various types. These include:
In-house progressives: these involve several slots in a casino linked to a network owned by the casino or its operating company. This type of progressive jackpot tends to pay in millions when hit.
Standalone Progressives:  this type of game is not linked to a network. So, a certain percentage of coins is set aside to form the only available jackpot prize. 
Wide Area Progressives: the wide-area progressives are larger than the in-house progressive. This is because several machines from different casinos are linked within a specific area. They offer truly huge prizes, especially if the slot in question is popular. 
While progressives are linked to slots, they can also be found in other games. Some brands of video poker and table games offer a jackpot. It is also worth noting that progressive jackpots in slots can only be won when you start playing the bonus round. Additionally, any wins on any slot game, jackpot or not, are determined by the Random Number Generator.  The RNG ensures that the game gives the same odds for each spin. This means that a jackpot can be won at any time. But more experienced gamers can usually work out how often a jackpot will payout.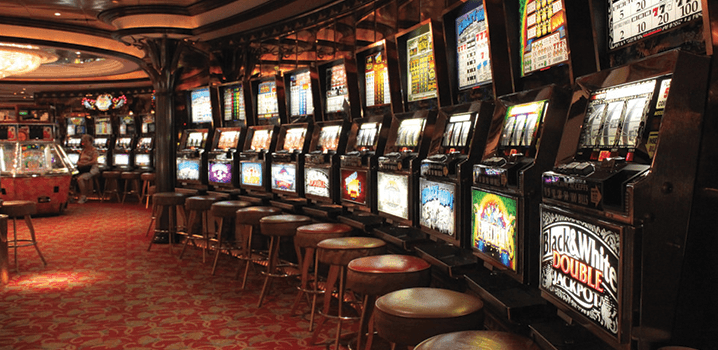 How to Play the Jackpot Bonus Game
As already mentioned, the chance to land a jackpot usually becomes available during the bonus feature or game. Landing the right combination of symbols will automatically make this possible. In some games, the jackpot can only be triggered in the free spins round. You will also note that the majority of jackpot games feature a bonus wheel or a similar alternative. These imitate the fairground "wheel of fortune" games. The only difference is that they come with a chance to win a jackpot prize. They are more common in multi-jackpot games. Sometimes one wheel will unlock several jackpots with better prizes on offer each time. 
But What Are the Chances of Winning a Jackpot?
The chances of winning a jackpot are slim to zero. However, there will always be one lucky winner from time to time. If you want to compute the chances of winning a jackpot, you can do that with some basic math. However, you mustn't forget that skills also play a major role. To calculate the mathematical odds of winning a jackpot, calculate the number of winning combos. Next, divide that number by the total number of combinations. 
Is it possible to improve the Odds of Landing a Jackpot?
The answer is both yes and no. You cannot change the game's built-in mechanics. However, you can use certain strategies that while keeping these factors in mind, will maximize your experience. The first strategy is to play with the maximum number of paylines that the progressive slot game has. There is a reason behind this logic. For starters, there is a theory that gamers who bet with the maximum number of paylines are more likely to win. Also, if you hit a win¸ at least you will get the maximum number of wins. That being said, only follow this advice only if the progressive jackpot is only open to players who play maximum paylines. If this not the case, then go for a lower number to extend your bankroll. Pay for a maximum of two hours and then move on. Take time and research on the game you want to play and see if the statistics state the gamers with the max bets are likely to win a jackpot.
Using Jackpot Trackers
If you wish to stay up to date with the jackpot payouts, you can rely on the internet to provide all the information. The internet is filled with a lot of information regarding slot & bingo games, live casino, and, of course, jackpots. Some fearless gamers have taken it upon themselves to sort through all this data to publish the results online. Trackers asses existing jackpot sizes in real-time. This allows the nerds behind the websites to point out the patterns in the drop rate of the game. Some will take a step further and use visualization methods like graphs to create detailed evaluations of jackpot wins and when they are likely to happen. The jackpot trackers are a useful tool, but in the end, they remain only tools. There is no sure way to predict a jackpot with any certainty, but access to useful information is never a bad thing. 
How Huge can Progressive Jackpots Get?
Progressive jackpots can stretch to a limitless amount of money. However, odds direct that they can be won at a particular point. The size of a progressive jackpot depends on the number of people playing the slot. For example, Mega Moolah has tons of players, so the jackpot builds up so fast. However, some progressive games from smaller producers don't see the jackpots increasing so quickly. The largest prize ever won at a progressive jackpot was won by a lucky payer from Finland who scooped a massive £17,861,800 when playing NetEnt's Mega Fortune. The lucky winner had placed a bet of only £0.25 on the winning spin. Mega Moolah has won the second-largest jackpot, which was won by a UK player at Betway Casino. The player won an impressive £13.2 million. Mobile gamers can also win progressive jackpots. The biggest amount ever won at a mobile casino was £7.9 million on the Mega Moolah slot. The lucky winner was using an iPad to play when he won the jackpot. The player was using bonus funds when he won the jackpot. This clearly shows the importance of casino promos. 
How You Can Boost the Chances of Winning a Progressive Jackpot
Before you can start picturing how your life would be like if you won the jackpot, it is best to look at what factors would increase the chances of winning a progressive jackpot. But is there a progressive jackpot winning strategy? To be realistic, it is impossible to fully guess when a progressive jackpot will happen. If a jackpot prediction was that easy to come by, people would be winning them every other time. Also, the winning amounts would not be much to write about. With that in mind, there are some useful tips that you can take into consideration in your quest to win a jackpot.
Find a Jackpot that is Overdue
Anyone who is out to win a progressive jackpot should consider playing jackpot slots that haven't been won for a while. Top progressive jackpots accrue over time. The more they are plated, the more the jackpot amount will become.
Therefore, when searching for a jackpot slot to play, go for the one with the biggest progressive jackpot amount. Also, select those that are higher than the rest.
Cash-in on Account Boosting Bonuses
When you choose to play a progressive jackpot, it is always very important to look for sites that offer bonuses like Cash rewards and bonus spins. 
Do your Homework on Jackpots
Finding information on progressive jackpots is quite easy. There are sites that give the amount won on specific games and the dates of exactly when they were won. With this information, you can start devising a winning strategy.  You can do this by looking at the patterns of wins. You can also be able to keep an eye on the average figures and know when the game exceeds the average amount. You can now conclude the time is right to jump in and start playing. 
Consider Cash-out Limits
When choosing a jackpot game to play, consider the cash-out limits. There are casinos that limit the withdrawals to monthly limits. In such a case, it will be long before you feel the effects of the good life you had imagined. Therefore, it is important to play at casinos that have no cash-out limits. It is hard to come by but if you do good research then you can get one. 
Top Jackpot Games Providers
Not all gaming software providers are created equal when it comes to offering jackpots. This is especially true when it comes to progressive jackpots. In this section, we will look at some of the top developers.
Microgaming: Microgaming is known for offering big jackpots. The total number of progressives is 18 mixed between video pokers and slots.

Playtech: they have a total of 40 progressive games which is the highest in the industry. But their jackpot average is not as high as you would expect.

NetEnt: the developer has 16 jackpot games, with some having multi-level payouts, and even bingo jackpot games!

Cryptologic: the developer has 16 progressives. Some of these are shared by a dozen games. While they don't have high payouts, the ratio is above average.

Gamesys: they have 6 progressives each with two jackpots.

Rival: they offer four progressive slots, with small payouts.

$lotland: this software designer is found only at Slotland Casino. They offer 15 progressive jackpots tied together through a site-wide network.

Vegas Technology: they have seven progressive games including blackjack, slots, and stud poker. 
What Happens After You Win the Jackpot?
So you have won the jackpot prize, what next? What most people do when they win the jackpot is to shout, jump, dance, call their spouse, and more. But what really happens?
Verify the Win
To begin with, most casinos take some time to verify the win. They will check their records to ensure that the win was legitimate. This involves checking that no fraud or abuse was involved and that the T&Cs were not violated. Once the step is complete, the casino will congratulate the winner. At some point, they may request an interview which will be published on the casino's website. They will do this to get publicity to attract new players so they can recover their losses. 
Payout
This is the last and most significant step. Depending on the casino's rule, the process can be lengthy. Some casinos will pay the jackpot all at once. Others will payout depending on their withdrawal limits as stipulated in their Terms and Conditions. This means that a multi-million jackpot will be paid out to you over several months. At other times it takes years at a casino that limits withdrawals to monthly payouts. The casino manager will take you through the process and what you can expect and when. They are also willing to negotiate with you the payout times, especially if you agree to do a little bit of publicity for them. 
Final Conclusion on Jackpots and Progressive Jackpots
Casino Jackpots are a great way to expand your online gambling experience. They offer you the chance to fully enjoy yourself. These games are quite exciting as they give you the opportunity to cash in big while playing your favourite game. All you have to do is place a side bet and hope that luck is on your side to get special card combos or symbols.