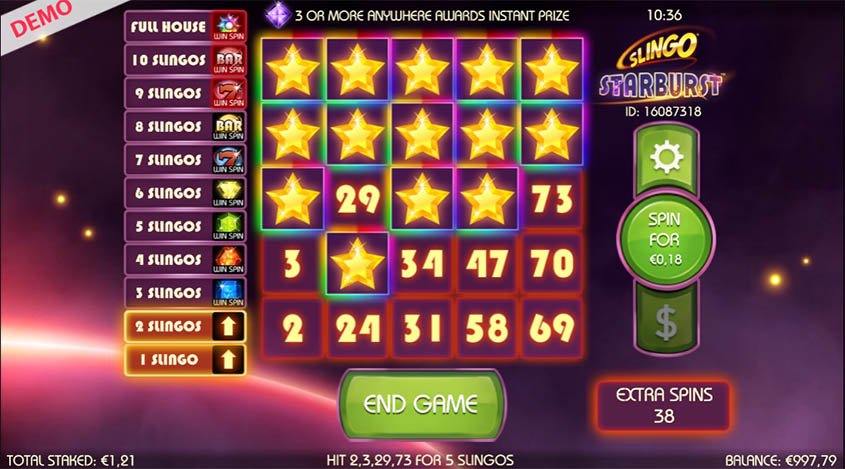 Slingo is an online casino game that Slingo Originals developed in the late 90s. The concept is relatively simple, as the game is a hybrid of classic bingo games and online slots – available to play on most new bingo sites.
Every Slingo title changes this classic formula; however, the overall premise remains the same. Players must spin the reels to match numbers to those on their card. A full card is called a Slingo.
So, how easy is it to play Slingo?

How To Play Slingo
As mentioned above, every Slingo game is different, but the core gameplay usually remains the same. To play a Slingo game, players must:
Players start a game with a stake. In Slingo, the bet levels are generally low. The average betting range spans between 10p and £1 per game.
This stake is worth a single game. Slingo will give the player a certain number of spins.
The player then gets to spin the reels and try to match the numbers on the grid to those on their Slingo card. You can land a line horizontally, vertically or diagonally, and players that match a number can cross it off their grid.
The player's objective is to land as many matching cards, or Slingo's, in the allotted number of spins. You can win a higher prize amount for landing more Slingos. Once these spins are up, the game ends, and you can choose to play again.
This process should serve you well in most Slingo games, but there are other common features you will often find as you would when you choose a particular bingo game to play or slot game.
Common Features of Slingo Games
It is easy to get to grips with the core process of playing Slingo. However, players will find some common elements across Slingo titles. These include:
Jokers:
A Joker symbol is the closest thing that Slingo has to a wild symbol. Landing this symbol on a spin will often allow the player to mark off one number from a column, making it easier to finish the round.
Super Jokers:
These extra symbols work like the regular joker symbol. However, landing the Super Joker allows the player to mark off one number from the entire grid, rather than just a column.
Blockers:
These symbols will typically take the form of a devil shape. Land one of these on a spin, and it will block off a line, causing that win to fail. Therefore, these symbols hinder the player's progress.
Starting Spins:
The player starts with a fixed number of spins to match as many Slingos as possible. The most common number of starting spins is eleven, but this can change depending on the type of Slingo game you play.
Additional Spins:
Eleven spins might not sound like a lot. However, that is why most Slingo games offer the player the chance to obtain additional spins. Once a game ends, players can choose to buy an additional spin for an extra stake. Doing so can be extremely helpful if you are only one number away from a full Slingo. However, you can choose to start a new game from scratch if that round was a bust.
These are all prominent features in a Slingo game, but how do the bonus features work?
How Bonus Features Work in Slingo Games
Slot games are the most common form of online gambling. This fact is in part due to the number of bonus features that the developer can include. These features can offer variety in the genre and give the slot its personality.
Slingo is slightly different in this regard. While these games can offer bonus features, they are more likely to fall under a certain category. There isn't much that the developer can do to deviate from the classic Slingo game formula. Bonus features in Slingo games often include:
Ladders:
In some Slingo games, players will find a ladder of values to the side of the game grid. This ladder system is used whenever the player creates a successful Slingo. The prize values will increase whenever the player climbs up the ladder. This ladder system may have a grand jackpot at the top or award players with more spins as they climb.
Whatever happens, this ladder system can provide players with all sorts of rewards.
Free Spins:
A common staple among slots, the free spins feature often appears in Slingo games. The star symbol may act as a scatter. Land this symbol on a spin to win some free spins. Since the starting number of spins is limited, the number of free spins will be low. Slingo games will usually reward players with one or two free spins as part of the bonus features.
Now that we understand the premise of most Slingo games, which ones should you play?
How Do You Pick Good Slingo Slots?
As with slot games, Slingo slots come with their own statistical data. Of course, these details will change across titles; however, you may notice that some aspects are familiar.
For example, the variance in a Slingo game is often high, which means that players will frequently land Slingo's. However, due to the low stakes nature of Slingo, the player is more likely to win small amounts.
The average RTP rate for online bingo games sits around 90%, and the average RTP rate for online slots is around 96%, calculated across 1,000,000 spins of the game. A Slingo game's RTP rate is likely to skew closer to that of an online bingo game. The average RTP rate for a Slingo slot is around 92%. This percentage suggests that the player is likely to receive approximately £92 for every £100 deposit.
These stats aren't universal, but these details are essential to look at when finding the right Slingo slot for you.
Slingo Gameplay Tips
We have discussed how to play Slingo slots at length; now, let's talk about how you should bet.
In the section above, we mentioned that Slingo games are low stakes. This is true, and you will often find that you are betting low. The max bet normally sits around £1, so players are never in danger of losing too much when playing Slingo.
However, it is important to note that the additional spins system can be a gift and a curse. You may find it tempting to go for the extra spin every time. However, if you have had a rather unsuccessful round, it may be best to cut your losses and move on. Instead, try betting lower for the next game and see how you do. Take advantage of the low betting range to get a feel for how each Slingo slot works.
Secondly, keep an eye on the other symbols. If you have already landed a joker, it is unlikely that you will encounter it again. Don't continue a game in the hopes of landing a second joker. On the flip side, you can apply this logic to the blocker symbol. If you have the chance to buy an additional spin and you have already encountered a blocker, chances are this symbol won't trouble you again. In summary, keep a note of what has already appeared.
Lastly, have fun. Slingo slots are meant to be enjoyed, not make you rich. The low betting range allows for lower stakes players to participate in an online slot without the burden of monitoring their deposits. Play Slingo slots at Barbados Bingo and find out exactly what these games are about.
*Any Free Spins/Welcome Bonuses References are subject to the following: NEW PLAYERS ONLY, MIN DEPOSIT £10, MAX BONUS EQUAL TO LIFETIME DEPOSITS (UP TO £250), 65X WAGERING REQUIREMENTS AND FULL T&CS APPLY
*All values (Bet Levels, Maximum Wins etc.) mentioned in relation to this slot game are subject to change at any time.