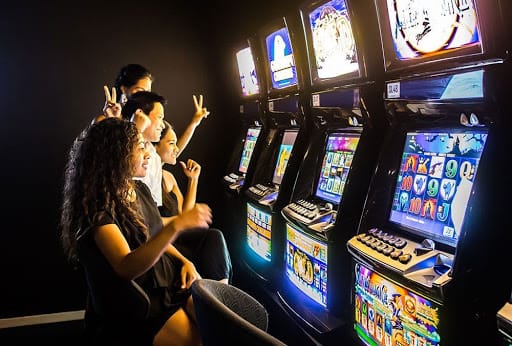 It is a very personal decision as to whether a player feels as if online Bingo slots is better than the traditional style of Bingo because it very much depends on what they want to get out of playing Bingo in the first place. This is because there is so much more to Bingo, both traditional Bingo Hall playing and Bingo online than simply dabbing off the numbers on your best bingo game ticket. There are many other factors to take into consideration like the atmosphere, the social aspect, and the convenience of Bingo playing, as well as many other things, which all need to be taken into consideration before a decision is made as to what style of Bingo is best for you. Bingo online does provide the ease, speed and variety, but the atmosphere and social aspects of the traditional Bingo Hall far outweigh online Bingo playing. So what are the pros and cons?

The Traditional Bingo Hall
Playing Bingo in the traditional style is very much associated with the social aspects that it brings. It allows people to leave their homes and mix with friends, old and new, in a setting where they all share a common interest. They have time to talk, socialise and have fun whilst playing the Bingo game they are love. Many faces in the traditional Bingo Hall will be familiar as there are the same faces meeting at the same time and day every week which is rarely the case for online Bingo games, especially when faces are never seen. The Bingo Halls are especially great for older members who are not acquainted with technology or who want to physically use a dabber to mark off the numbers and actually hear the caller shout out the numbers during their Bingo game too.
Negatives of a Bingo Hall
Unlike the online Bingo games, the Bingo Hall is not particularly convenient to many players as they are not open 24/7 and you have to make a specific journey to a certain location on a chosen time and day to be able to play. This has also been more difficult due to the Bingo online popularity which has flooded the Bingo market and caused many of the Bingo Halls to close down. Though there are many games taking place throughout each day, there is only on Bingo game taking place at a time, so there is not a great variety in the Bingo games available for a player so this is much more limiting than playing Bingo online, but for many older players this is the traditional way and all that they have known so they are used to this manner of Bingo playing.
Playing Bingo Online
Players have taken to playing free bingo bonus no deposit like two little ducks to water due to the ease, speed and convenience. There is always a Bingo game that you can play when it comes to online Bingo because there are so many different rooms available and the range of choice is huge. This means that you can find a style of Bingo that suits you perfectly as a player, so you can take your pick from the 75 ball Bingo, 80 ball Bingo and the 90 ball Bingo games as you see fit. There are also the Bingo chatrooms for you to use so that you can replicate the social aspects of the Bingo Hall online, meeting players from all over the world who share a common link of the love of Bingo. It can also be much cheaper to play Bingo online as there are so many people participating and the jackpots can be life-changing too.
The Downside of Online Bingo
As Bingo online is always accessible, it is not such a big event in the calendar as it would be if you had to set aside a specific time in your week to set out to go and play in a Bingo Hall. You don't get the time out of the house away from all of the other jobs you need to do and there are constant other distractions around you. But the main issue that players have with Bingo online is the lack of atmosphere and interaction with other players. Yes, there are the chatrooms in the Bingo online sites but sitting amongst fellow players, laughing, having the comradery, listening to the call outs, physically dabbing off the numbers instead of them automatically being dabbed off for you does remove a lot of the fun from the game of Bingo that we all associate with this much-loved game. But the overall decision is a very personal one as to whether online Bingo is better than traditional Bingo!