Players are attracted to no deposit bingo for several reasons. One of the most obvious reasons is that offers them the chance to win such lucrative payouts. This is a key advantage of jackpot games. The prize at bingo is cash that ranges between $50 and $100 for a small bingo hall. The amount can increase to $1 million or more in special stakes games in casinos. However, the prize can be in the form of a trip, a car, or novelty prizes. The size of the jackpot will depend on how much money is coming in. Most casinos are required to pay out 50% to 60% of the income. Also, the amount they can pay out per session or game is limited by the local or state rules.

Bingo Jackpot Basics
The Bingo Jackpot comes in various types:
Guaranteed jackpots

Sliding jackpot

Prize jackpot

Progressive jackpot

Guaranteed Jackpots
These jackpots are quite straightforward.  The selected jackpot amount is specified at the start of the game. This doesn't change even if only a few players take part in the game. The amount here is usually lower in value than the sliding or progressive jackpots. But the chances of winning are higher.
Sliding Jackpot
Unlike progressive jackpots, sliding jackpots depreciate on value with time. The earlier you can win from a sliding jackpot, the more money you will win from it. The jackpots have a set minimum amount.
Prize Jackpots
With bingo games, it is not always that you will be awarded cash after a win. Sometimes, bingo jackpots can come in the form of other prizes. It comes in the form of condos, cars, weekend getaway and much more. 
Progressive Jackpot
A progressive jackpot keeps growing from game to game until someone wins it. The house kicks off a progressive jackpot game by feeding the pot with a massive amount of money instead of setting the jackpot as a percentage of card sales. To win a progressive jackpot, the player must have an extraordinary win, such as a blackout in only 49 balls. If there is no winner, the casino will chip in an extra amount to make the amount more lucrative. The jackpot can be increased by $100 per game over a number of sessions or weeks. Sometimes, the jackpot grows so big that it has to be capped. This is according to the laws, that when the jackpot grows to a certain amount, the house caps it and the prize stays the same until won. Some states do not limit how much you can win.
The popularity of huge prizes has permitted bingo to expand into more rewarding games. The most thrilling feature in the bingo world is the spread of high-stakes games. There several halls scrambling to set up games that promise to pay up to $1 million in bingo bonuses to the lucky winner.  This jackpot amount is so high that some hall owners take insurances to avoid going bankrupt. Some of the super-jackpots are set up to be step games. This is where the game pays different amounts based on how fast the winner gets a blackout. For instance, a blackout in 49 numbers can pay $50,000, while that of 45 numbers will pay $100,000.  Because it is hard to get a blackout in a few calls, it can take weeks or months before anyone wins it. If you land a win in a super-jackpot, you just don't walk away with a huge check.  First, the bingo balls are collected and sent to an independent testing lab to make sure that there has been no tampering. The insurance company will also review the security video. The process takes about 48 hours after the win. If the jackpot is less than $100,000 it can be paid out in a single lump sum, but larger amounts are paid out in yearly payments. Another way that bingo halls offer larger jackpots is through Satellite Bingo. This is a connected bingo game played concurrently at bingo halls in a particular area. An outside firm connects the bingo halls by satellite. This game offers much larger payouts than what individual halls could possibly offer.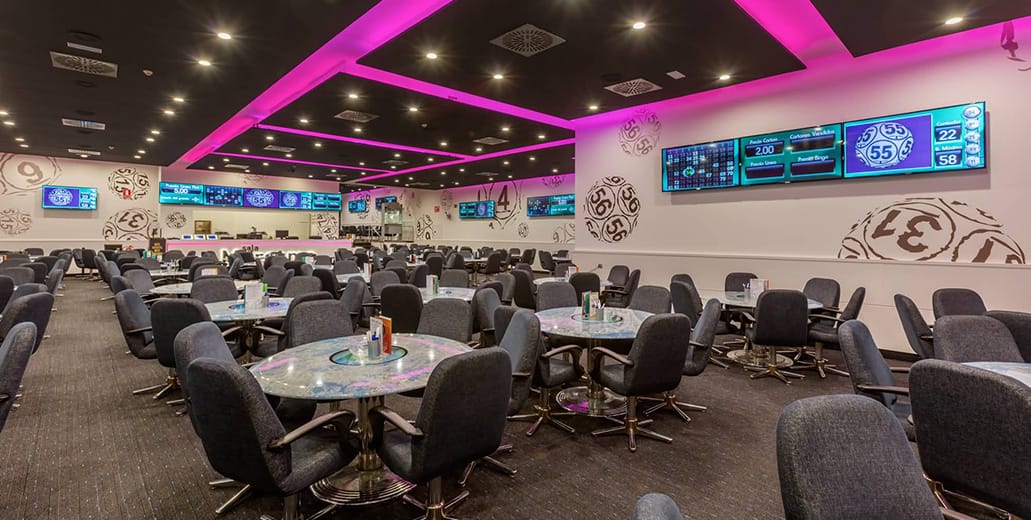 How do Land-based Bingo Casinos and Halls Compare?
Land-based casinos offer jackpots to their bingo games customers, but these are not as large as what is offered at online casinos. The most common jackpot range in land-based casinos is $10,000 to $50,000. To win them, you have to spend hours playing at one of their scheduled tournaments.  Nobody has time for that. Generally, you will find that online bingo halls and casinos offer bigger jackpots than what you will find at land-based casinos or halls. It is important to remember, however, that the progressive jackpots at online casinos are greater than that of land-based casinos because many people are playing. The additional players at online casinos decrease your winning odds. Winning a progressive jackpot bingo is pure luck. Therefore, it is important that players, both online and at land-based casinos, bet responsibility to avoid using money they cannot afford. They must also concentrate on the entertaining aspect of the game and avoid developing an addiction. 
How to Play Bingo Online
There a few things that you need to consider when playing bingo online. First, you need to decide whether you are going to play through your device browser or download additional software. Once you decide which game you want to play and how you will access it, choose a payment method that is most convenient to you. Lastly, you must ensure that you follow the state's laws regarding online gambling. Each state has its own laws which you must follow to avoid the risk of losing any winning you may be entitled to.
Conclusion on Bingo Jackpots
Online bingo is gaining much popularity than its land-based counterpart. It remains to be one of the most popular online games across the world. This popularity is attributed to the social aspect of the bingo game, such as the interactivity it provides to others through chat. Also, the game is known to offer lucrative jackpots to players. You stand a chance of winning up to $1 million in bingo jackpot! Learn more about jackpots in our online jackpots guide! Therefore, it is only fair to say that Bingo Jackpot is a game-changer to the lucky winner.