If you are familiar with playing free online bingo games in an online casino then you may well have come across the term 'RTP'. If often crops up in reviews of online slots games that you will read on casino guide websites. Many slots veterans often seem obsessed with the term, but if you are a novice to the world of online casinos you probably find it a little baffling. 
In reality, Return to Player (which is what RTP stands for) is a very simple concept. It can also give you some important information that can help you shape a more successful strategy when it comes to playing slots online, which unfortunately does not apply to bingo games. Here, we will take a closer look at the concept of RTP, and examine it in more detail. You should have an excellent and detailed knowledge of the idea by the time you have read this article.
As with anything in gambling, the greater knowledge that you have the greater your chances of success will be. Knowing about RTP and what it means will come in very handy indeed when you need to shape a strategy that can bring you more success from your slots gaming. Read on to discover more about RTP and how it can help you win more often when playing slots online!

The Basics about RTP in slot machines
So now that you know that RTP stands for Return to Player, how exactly does it work? Well, the first thing that you need to be aware of is that an RTP rate of 85%, for example, does not mean that you can expect to win back at least 85% of what you spend playing on the fruit machine. RTP is not calculated using such simple parameters.
So how is it calculated? RTP is an average figure that is obtained over hundreds of thousands of plays of the slots game. It is not a figure that is reached by simply playing a few games and seeing what happens. It is also important to remember that online slots games have their outcomes determined by something called a Random Number Generator.
This RNG ensures that each spin is entirely random and that each outcome is fair, at least according to the parameters that the game's developer has put in place. It is also important to remember that an online casino is not a charity. All games will have a margin in place that allows the casino to make a profit. While the RNG might guarantee fair outcomes in the eyes of the casino, it is not going to ensure that you are going to win every time. 
Where Can You Find the RTP of a Slot?
Finding the RTP of a game is not too difficult. If you use any internet search engine and search for a specific game you will usually find a review that will tell you what the RTP of the game is. Many of these reviews will also give additional helpful information about the game that you can use to shape a successful online slots strategy.
For example, you might discover whether the game has some good bonus features that pay out more often. This too can be useful to know, as many bonus features now also attempt to incorporate some element of skill. Bonus features are often the best way of picking up big wins, so an online casino game with an RTP of over 96%, with some good bonus features in it, is a juicy prospect for an online slots gamer. This is doubly true if the game has something called high volatility.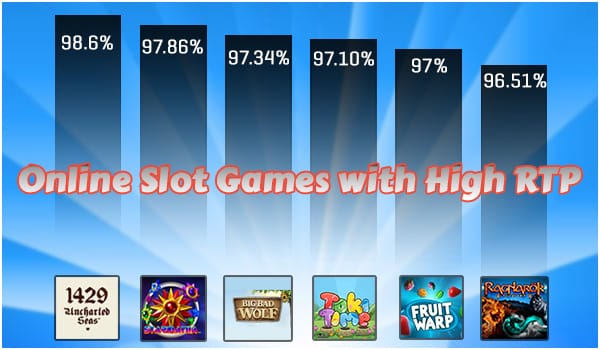 How RTP Can Shape a Successful Casino Strategy
So how can you use the RTP of a game to shape a more successful strategy for playing online slots? Well, there is one basic way, and that is to pick out games that have a higher RTP, as these are likely to give you a greater chance of winning. Online slots gamers generally tend to believe that a game with an RTP of over 96% represents good value.
It is also important in this context to check the volatility of an online slots game. The volatility refers to the likelihood of a game paying out, and the usual size of its payouts. High volatility games pay out larger amounts but less often. You might be happier playing a low volatility game, where the payouts tend to be more frequent, but smaller.
Conclusion in calculating your basic chances to win
As you can see from the above, the concept of RTP is not too difficult to grasp. While there are some complexities when it comes to calculating the RTP over the long term, the figure itself is pretty easy to understand. It is really important to remember that the figure does not relate in any way to the level of winnings that you are likely to receive when playing a machine. You must remember that the figure is calculated over the long term, not the short term.
If you keep that in mind, RTP is a useful idea that can help guide you in the right direction when it comes to shaping successful strategies for slots gaming. While it is important to remember that very few online slots games incorporate elements of skill. This means that you are at the mercy of the Random Number Generator, which means that there is absolutely no way that you can guarantee or shape any outcomes on the reels at all.
But what RTP can help you do is pick out the right machines to play, and work out how much you should be betting. The more you know about the relative RTPs of different games, the better you should be able to understand online slots gaming more generally. RTP is a useful tool when it comes to shaping a successful online slots strategy, if you use it sensibly and are aware of its limitations. Check out the RTP rates of different games by reading game reviews at your favourite online UK casino!