Cash Cuisine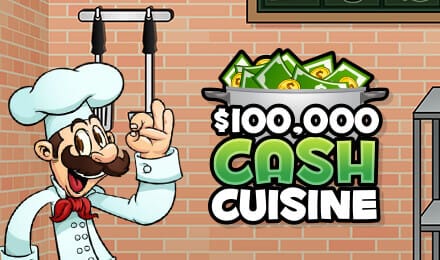 Cash Cuisine brings to the idea of money on a platter to a reality. It is a whimsical little game which will leave you drooling.
The online bingo UK game is fashioned like a standard Scratch and Win card where players are given 9 options to select from. Thematically in line, the 'scratch' items are dishes covered in platters. If you match 3 dishes, you win!
Cash Cuisine features different Multipliers that correspond to each dish. These range from a 1X Multiplier to a 10,000X Multiplier. With a betting range of £0.10 to £10, you are looking at a possibility of winning £100,000!
Quicklinks: Fluffy Favourites | Bingo Hunter | Cops and Robbers Slots | Break Da Bank Again | Sweetie Land | Beehive Bedlam | Rainbow Riches Reels of Gold | Mermaid Millions

About the Developer
Pariplay is a gaming developer from the Isle of Man. They specialize in slots but they do not limit themselves to a certain approach or manner – they make games of varied themes and qualities. Pariplay also partners regularly with other software companies such as Playson and NetEnt, distributing their games under their partners' names. Some of Pariplay's online bingo games include:
Star Raiders 
XO Manowar
Sharknado 
and more bingo offers UK games!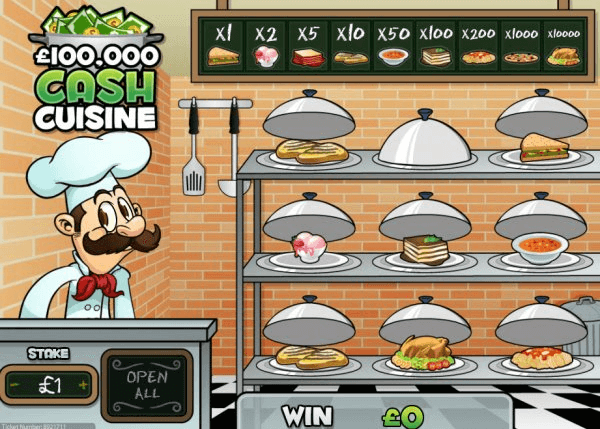 About the Game
Ever wished you could order a platter full of cash? Pariplay has heard you loud and clear and is ready to serve you cold hard cash masked as delicious and warm meals.
Cash Cuisine uses the popular scratch and win mechanic, offering 3 rows of platters on a trolley tray. This is complete with a moustachio chef who looks ever so eager to feed you. It is set against a brick wall with hanging utensils and right in the middle of that are the dishes. There are 9 dishes in total but they are all concealed by a platter.  Above the platters the game has fashioned a blackboard style menu board. Each of the 9 dishes are featured there with their respective price.
Now, if you were to enter this store in ordinary circumstance, a $1 price tag for a sandwich will make you feel like you are back in the 70s; while a $10,000 price tag for a roast chicken will trigger a near heart attack. In Cash Cuisine, however, that is a good thing. The price of each dish on the menu board is in actuality its Multiplier. If you are able to uncover 3 Roast Chickens for example, you will receive a Multiplier of 10,000 – which again may cause some heartbeat irregularities.
Players need to 'scratch' the respective dishes to liberate them from their metallic domes. There are 9 options in total. If you manage to match 3 dishes, your bet will be instantly multiplied. The multiplier directly corresponds to the dish you matched – table below.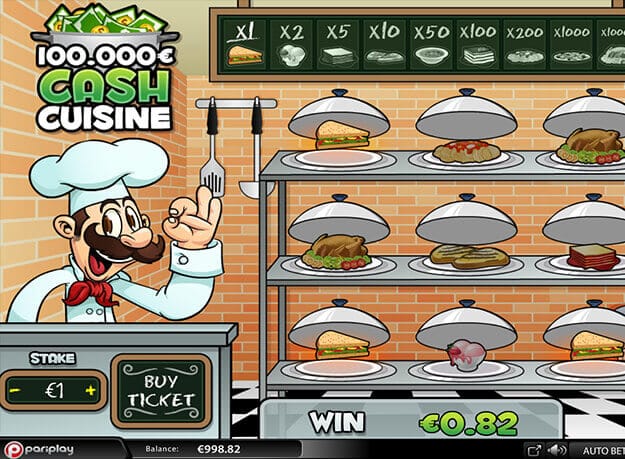 DISHES AND MULTIPLIERS
Cash Cuisine features 9 sumptuous dishes each with their own specific Multipliers. If you reveal 3 or more of the same dish from under the platter, you stake is multiplied with their respective Multiplier.
3 Sandwiches = 1x Multiplier
3 Bowls of Ice Cream = 2x Multiplier
3 Strawberry Cakes = 5x Multiplier
3 Steaks = 10x Multiplier
3 Bowls of Soup = 50x Multiplier
3 Chocolate Cakes = 100x Multiplier
3 Spaghetti Dishes = 200x Multiplier
3 Pizzas = 1000x Multiplier
3 Roast Chickens = 10,000x Multiplier
The Verdict
Cash Cuisine brings together the love of food with the enthusiasm of scratch and wins cards. The 2 factors surprisingly gel very well together. The game is fun, quirky, and best of all it can fetch you up to £100,000!
If you enjoyed Cash Cuisine, you can challenge yourself with this game.