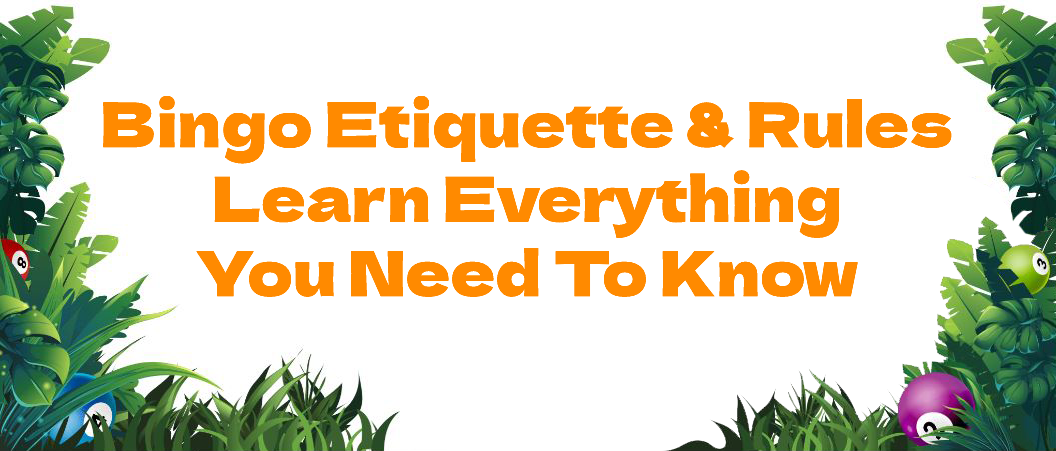 It doesn't matter if you're a Bingo veteran or a newcomer; you could benefit from learning about the different Bingo etiquette and rules at Bingo halls and in online UK Bingo. As many of you know, the Bingo community is expanding quickly. 
Today, players don't need to make their way to Bingo halls as they can enjoy their favourite Bingo games online at Barbados Bingo from their homes. Whereas online Bingo etiquette isn't as strict as Bingo etiquette in halls, players need to stay up to date to know what rules to abide by. 
Keep reading this article to find out all you need to know about Bingo etiquette and rules! 

What is Bingo Etiquette? 
Bingo is playable both in traditional Bingo halls and on online Bingo sites such as Barbados Bingo. Wherever you play this game, some form of etiquette has to be followed to ensure a cool, calm environment that ensures a fair game goes on. 
Bingo players who follow these rules can create a deeper sense of belonging in their Bingo community and may be highly regarded. Sure, sticking to a set of rules can be tough at times, but when these rules can benefit the entire Bingo community, why not? 
By following these rules, players can cultivate strong relationships with other players and create a relaxed environment to enjoy their Bingo experience.
Bingo Etiquette at a Bingo Hall 
First up, let's talk about the Bingo Etiquette players should follow when playing Bingo in a hall. The first step is to choose where to sit. Many players may have a 'lucky spot' and prefer to sit there every game. Hence, if another player asks you to move from your seat politely, understand that you've probably sat in their lucky spot. 
Keeping noise level at a minimum is essential in a Bingo Hall, and chatter is not welcomed. If you're new and need to ask something, it's best to be short and quick or wait until one of the breaks. 
Next, the caller (the person calling out the numbers) must always be respected. Remember - it's not the caller's fault that he or she didn't pull out the numbers you were hoping for; it's all a game of chance! Make sure to keep up with the pace of the calls; otherwise, you might end up missing numbers that may help you win! 
Finally, always double-check your card to make sure you don't call out a false 'Bingo.' False claims can disrupt the game's rhythm and distract others. 
Bingo Etiquette Online 
Now, let's talk about the Bingo etiquette players should follow online at sites such as Barbados Bingo. The rules aren't the same as online Bingo is played from home or through mobile devices. Hence, the rules don't need to be as rigid and strict. 
That being said, just like the 'caller' in Bingo halls, the Chat Moderator has to be respected in online Bingo rooms. They often have a tag of 'CM' before their name. The CM allows players to chat in online Bingo rooms (unlike in Bingo halls), as players can easily ignore the chatter if they need to. Distracting or interrupting the moderator may lead to a player losing their chat privileges. 
Next, avoid typing in uppercase letters in an online Bingo room, as only the CM types in capital letters. Plus, typing in capital letters can also come off as being aggressive; hence it's better to avoid doing so. This is one of the stricter rules in online Bingo rooms, as typing in capital letters may get you booted. 
Finally, make sure to choose an appropriate username, don't abuse anyone, and re-read your messages before sending them to make sure they are understood correctly. 
Bingo Rules 
Interested in learning all about Bingo rules and regulations? Here's what you need to know: 
You must be 18 years of age to play Bingo (A photo ID may be required).

Only guests who have a buy-in receipt can be seated in the playing area. 

Games will only be honoured on the day and session of purchase. They will only be valid if played on the correct colour or game number. 

Bingo games played on paper must be marked with a permanent marker.

Players must yell 'Bingo' when the last number they need is called. They should be loud enough so that the caller can hear them and stop the game. 

Once the caller closes the game, no other 'Bingos' will be listened to or honoured. 

Players must not engage in loud talking, foul language, or inappropriate behaviour. 

No card-playing or dice playing is allowed during the Bingo game. 

Appropriate clothing attire is necessary. 

Smoking and alcohol aren't allowed, and cell phones must be silenced before the game begins. 
How do you Yell Bingo? 
When you get all the numbers you require, you should yell 'Bingo!' loud enough for the caller to hear you. Before a player is declared the winner, checkers will double-check to ensure they have a winning card. 
In online Bingo games, players can simply click on 'Bingo' to notify the game officials to check their card. 
What do you Shout in Bingo for a Line? 
Players simply shout 'line'' or 'house' for a line, depending on the prize. Players often shout 'house' for most wins (including a line or two lines). Players may also use any other call to attract the caller's attention when they get a line. 
What Happens if you Call Bingo and you Don't Have it? 
If a player calls an incorrect Bingo, they are no longer eligible to win during that round. This rule applies to any player who calls out a false Bingo, even if as a joke. Hence, always double-check your Bingo card before yelling it! 
Can you talk During Bingo? 
When you play Bingo in a hall, chatting is forbidden, and the rule is to be quiet during the game. This ensures that all calls are heard. However, in online casinos, making conversation with other players is no big deal. Players can chat as much as they desire without offending anyone. 
If you fancy trying some Bingo out today, why not try Barbados Bingo!