Koi Princess
The Koi Princess is one that demands your attention, her anime design cant help but attract even the blindest of moths to the flame. This NetEnt themed slot is one that not only plays great but looks just as perfect. Packed full of awesome prizes and big cash pay-outs, Koi Princess is stacked full of alternative entertainment.
This 20 pay-line online gambling bingo slot allows you to accumulate varying levels of excitement, not only that but there is a variety of bonus features that will continue to keep those reels spinning. Expect wilds, scatters and free spins to pad out the basics of this game. Keep your eyes open for the secret playing card symbol, these are the highest paying out symbol, the more you match within the same pay-line, the higher your score for that particular spin.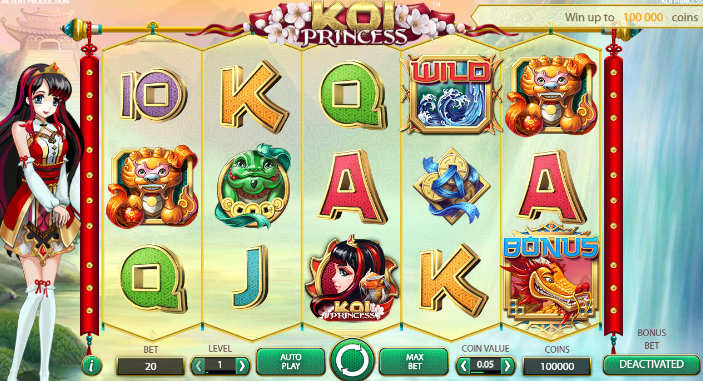 About the Developer
How often have you seen an online game dev become a household name? We'll answer that for you, very rarely. Since its inception NetEnt have produced over a hundred titles, each with their own significant themes and experiences. These guys are tried and tested and have even stood the test of time itself, over a decade of entertainment and we're sure there will be decades more to come. NetEnt: a dynasty in the online gaming industry. Try out their fun games and win extra cash here.
About the Game
Each of the symbols in this slot represent the theme at play here. The scatter symbol itself happens to be the Koi Princess herself, and she just so happens to be rather generous in giving away her money. 400 coins are up for grabs with the matching of 5 of her symbols. Matching 2 of these symbol will also provide a pay out that's smaller but still a pay-out.  Free spins are unlocked through the matching of these symbols, making it a must have for anyone looking to get their hands on the big wins.
The wild symbol will pay out at 500 coins, this is the highest paying symbol on the board making it the most desirable if you are feeling lucky. It might not come to you at first, but repeated spins on these reels should be able to fix that issue. There is also the ability to access the bonus bet function. Upon activation, the player will see the cost of each of their spin double, thus increasing the chances of their wins with each spin. This offers an entirely new perspective on how to play and subsequently win big. Not every slot has this feature, making Koi Princess worth playing for this feature alone.
The Verdict
Koi Princess is one of NetEnt's finest slots to date, not only is it a window into the life of this princess, but it is also an experience in exciting gameplay. There are so many Asian themed slots out there that have varying degrees of immersion. There aren't that many slots that play well around their intended theme. Gameplay: check, graphics: check, your involvement in this slot:…..pending. Play now and defy expectation. You might also find a new experience in playing some of our best online bingo games!
If you enjoyed Koi Princess, don't miss this other fine game and play today.