Bingo Blast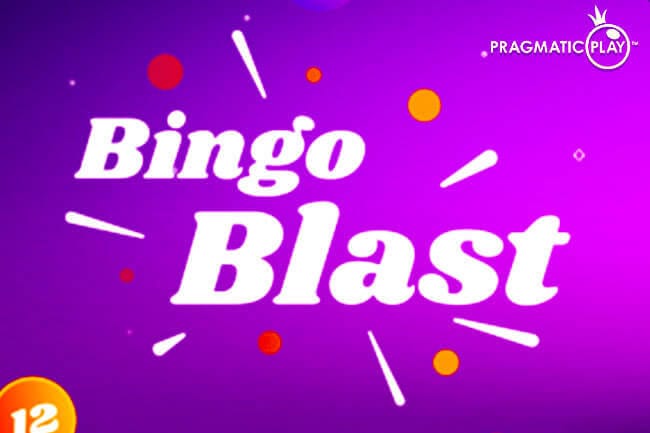 The popularity of online bingo has surged over the years, and as more of us are staying at home now more than ever it's a good time for new releases.
Barbados Bingo is where to play online bingo like Bingo Blast. A new online bingo released by Pragmatic Play, you won't be disappointed by this excellent online offering.
And, it seems Bingo Blast has come at just the right time too, as physical bingo events have been cancelled and taken online as of late.
Bingo Blast also has something else which gives it the edge - it's not only new and exciting, but it's a mobile-first bingo game. In addition, it was made by Pragmatic Play, so you know it's going to be fun!
Pragmatic Play is among the larger content providers in the online casino industry after all. Bingo Blast has a nice feel to it and is full of bright and vibrant colours which appeal to the younger audience it's aimed at.
However, Bingo Blast doesn't exclude existing bingo lovers, as it's been designed to cater for those too. Bingo Blast is the ideal choice for those who can appreciate a faster gaming experience with online bingo, or who just might want to try out that kind of gameplay.
This is the online bingo game for you if you want to play your favourite classic bingo game with a more fast-pace to it. Read on for more about Bingo Blast!
QuickLinks: Carnaval | Very Merry Christmas | 7s to Burn | Goldwyn's Fairies Slot | Lucky Irish | Centurion Slots | Zodiac Bingo | Pixie Slots | Pyramids of Giza

About Pragmatic Play - Pioneers Behind Bingo Blast
With a huge portfolio showcasing a wide variety of top bingo games and innovative casino games, Pragmatic Play primarily serves the mobile-focused market.
Leading content providers to the iGaming industry, Pragmatic Play strives to deliver a fresher take on casino games than any other for the online casino marketplace with diverse games. 
As Pragmatic Play offers such a diverse range of games, you'll find plenty of Pragmatic Play casino games to choose from at Barbados Bingo including bingo games and slots!
Setting the tone for the best content in the online casino industry, there are more great games and bingo to play with in addition to Bingo Blast from Pragmatic Play.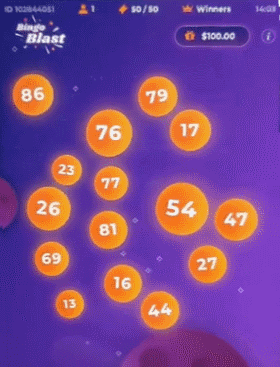 Bingo Blast Gameplay
If you're looking for a fun, new experience within a classic games design setting, Bingo blast is the game for you.
This bingo bonanza was designed in-house, and it's exclusively available to online casino sites only from this provider. Bingo Blast offers a fabulous gaming experience, which is faster than others.
Indeed, it has been claimed that the gameplay with Bingo Blast is round about three to four times faster than the regular 90-ball bingo game most of us know.
In addition, while the phrase "on the go" at the moment may just mean going to a different room, this game is ideal for that too.
Due to the fast-paced nature of this online bingo game, it's the ideal choice for gaming "on the go", wherever that may be.
Back to the gameplay now - when a player first enters the game, first you will be greeted with a blast of balls which explode across the screen.
Soon after this explosion, there are another and players once again are taken through another blast of balls before the final round, when the bingo balls rain down until someone wins.
Bingo Blast is certainly an innovative take on the regular online bingo, and its high-velocity gameplay makes it a real contender in this realm of the online casino.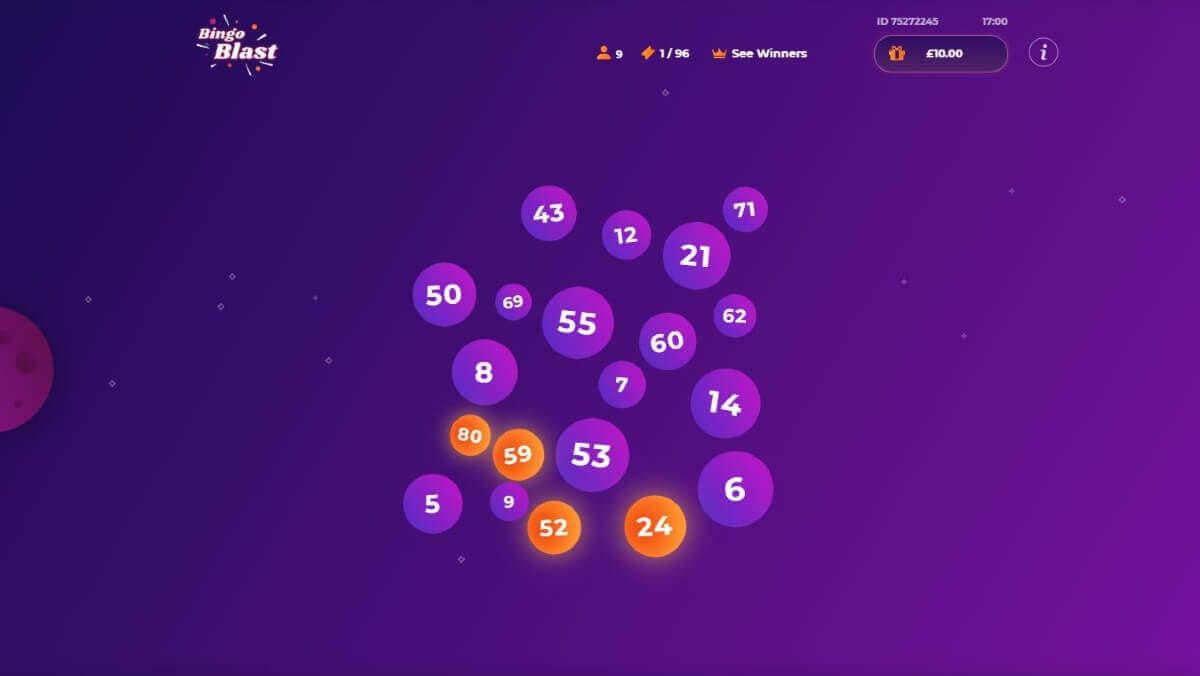 Bonus Features in Bingo Blast
Bingo Blast offers players engaging visuals, and it's definitely set to be a hit with online bingo lovers as it's a classic bingo game for our modern times.
Of the bonus features with Bingo Blast, the gameplay itself is straightforward and yet the fast-paced action makes it something truly exciting.
In addition, you can find some great promotions with Barbados Bingo when you choose to play Bingo Blast right there.
You can't really go wrong, as this online casino is among the UK's leading bingo games providers. They offer some of the best bingo games including free bingo games, VIP free bingo games and the more traditional options.
Further bingo games you can find with this online casino other than the fabulous Bingo Blast includes the traditional 75 ball bingo games and 90 ball variants.
Then, we have the bingo millions series which includes Bingo Millions, Bingo Millions 75 ball, 80 ball and 90 ball. There are even more fun bingo games in addition to these, believe it or not!
Bingo Blast gives players optimum chances to win right from the start! As soon as you enter Bingo Blast you're greeted by a plethora of Bingo balls, and then these continue to hail on screen until there's a winner. That could be you! The bright colours and lively soundtrack really add to the excitement too.
Last Thoughts on Bingo Blast - Hit or Miss?
We really couldn't tell you what more you could want from an online bingo game. There's fast-paced action along with fun, there's a good chance of winning, there's interest on-screen with bright colour and vivacious action.
All at the click of a button, and it's a mobile first bingo game which is just brilliant. The mobile aspect of this bingo game makes it so much more accessible than many other bingo variations out there.
It's also great that although this online bingo game was created with the younger bingo lover in mind, they've stayed true to roots and haven't strayed far from original bingo.
We reckon this online bingo is worth trying out whether you're a newbie to the game or a fan of the classic variants.
It has something new to offer those of you who are more into the classic variations of bingo games, and it's appealing to the newcomers as it's accessible and fast-paced. Why not try it out for yourself today? You never know, with all those ball explosions you could be the next big winner.
If you don't think this is the right game for you, why not try Wonder of Ages Slot instead.