Triple Double Bonus Poker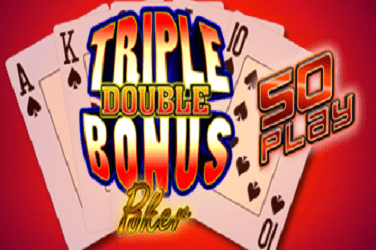 Triple Double Bonus Poker is for the big boys. If you like playing dangerously with cash you'll enjoy this. Triple Double Bonus Poker is the highest variance game in the family of Bonus Poker variants. This version is brought to you by IGT Gaming.
The main difference between Triple Double Bonus Poker and it's brothers and sisters is that it offers top-heavy payouts. Four aces with a two, three, or four kicker pays the same as a royal flush. Quad twos, threes, and fours, with an ace, two, three, or four kicker pays double than it does in Double Double Bonus Poker, and a whopping ten times as much as in standard Bonus Poker.
Quicklinks: White Wizard Slot | Bandits Bingo | Fluffy Too | Happy Birds | Barry the Leprechaun | Faiground Bingo | Rainbow Cash Pots | Mad Mad Monkey | Piggy Payout Jackpot

Triple Double Bonus Poker Developers - IGT Gaming 
IGT Gaming pride itself on being able to anticipate the demands of consumers of online bingo UK games. By investing in innovation and in-depth customer intelligence, they have solidified their approach to creating games people will love. The approach to Triple Double Bonus Poker was no different.
These are the guys that brought you classics such as Cats and Da Vinci Diamonds. It is said that IGT gaming is actually the largest supplier of slots in the world. They've even brought some classics to the market based on popular brands and franchises, such as Monopoly and Star Trek. IGT Gaming has an extensive history in the market, so you can trust that their Poker and top bingo games are high quality.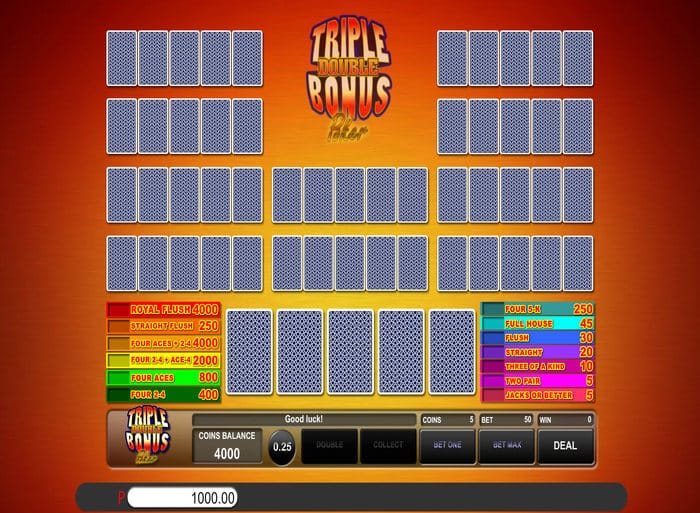 Playing Triple Double Bonus Poker - What to Expect
To get started in Triple Double Bonus Poker you deal to receive a hand consisting of 5 cards. You then select up to 5 cards to hold. This lets you draw new cards to create a well-paid winning combination. If the final hand is a winning one, you can take the payout and start one more hand or try to double the given payout. To succeed in the double up payout, you need to pick a higher card than the face-up one.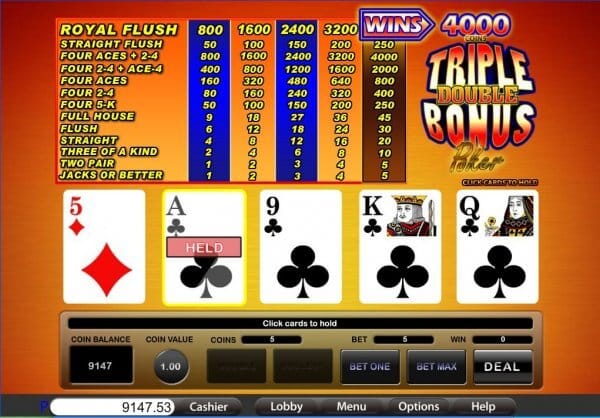 Bonus Features and Free Spins in Triple Double Bonus Poker
Central to all of the 'bonus poker' variations is that a player receives a 'bonus' for certain four of a kind draw variations. On Triple Double Bonus Poker the top hands with the right kicker is awarded a huge jackpot. These are the hand payouts:
Natural Royal Flush (payout of 1:4000)
Straight Flush (1:250)
Four of a Kind - Aces + 2-4 (1:4000)
Four of a Kind - 2s-4s + Ace-4 (1:2000)
Four Aces (1:800)
Four of a Kind - 2s-4s (1:400)
Four of a Kind - 5s-Ks (1:250)
Full House (1:45)
Flush (1:30)
Straight (1:20)
Three of a Kind (1:10)
Two Pair (1:5)
Jacks or Better (1:5)
To reap the benefits of the type of bonus features in Triple Double Bonus Poker your playing strategy should seek to minimise the lower paying hands while increasing the opportunities to win the 4K hands.
Triple Double Bonus Poker is all about three of a kinds with a corresponding kicker. For example, if you get 2H 2D 2S 4C X, in many video poker game's you'd hold 2H 2D 2S X X. However, in Triple Double Bonus Poker you'd not want to do this, and instead should opt for 2H 2D 2S 4C X. The difference between four deuces and four deuces with an A, 2, 3, 4 kicker is now too great.
Last Thoughts on Triple Double Bonus Poker Online - Hit or Miss?
This is not a game for poker beginners. A player that misses the bonus quad payouts and royal flush will encounter a house edge of nearly 15%, so it is a game for a serious bankroll. If you have the finances for it, Triple Double Bonus Poker is a game you will seriously enjoy because it is so nerve-wracking!
Barbados Bingo offers numerous games like this, such as Slingo Carnival Slot.