Slingo Carnival


Fans of the colourful carnival and its compelling rides will enjoy this online free bingo game, Slingo Carnival. Enjoy the retro soundtrack and theme as you dive into round after round of carnival fun. The game's highlight is a host of bonus features that make each playing session unique.
Quick Links: Ave Caesar Jackpot | Big Bad Wolf Slots | Beverly 90210 | Santas Workshop | Holly Jolly Penguins | Enchanted Prince Slot | 20p Roulette | 90 Ball Bingo

Slingo Carnival Slot Developers - Slingo Originals 
Slingo Originals pride themselves on innovation and creativity, and they value how well they place player interaction at the core of all that they do. As developers of online free play bingo games, they are difficult to match because they've enabled decision-making and skill to make pivotal changes in gameplay, meaning more than just luck is paramount to winning.
Slingo Originals have developed several popular online bingo games, such as Slingo Lightning for instance. This one's electrifying! Lovers of fast-paced online slot games will enjoy this as only 50 balls are in play.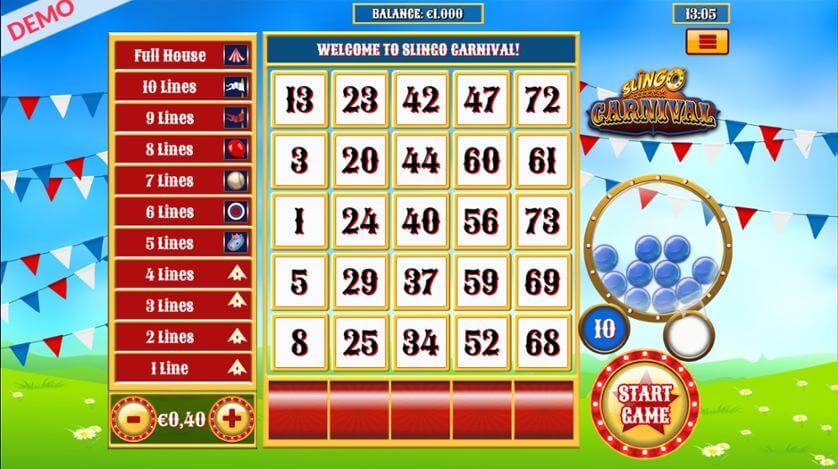 Playing Slingo Carnival - What to Expect
Slingo Carnival is an online bingo game that is very easy to play. The aim of the game is to match numbers on the reels with those on the grid, with each game lasting ten spins. You'll win a Slingo by marking off five numbers on one of 12 win lines. Winning a Slingo moves you up the progress ladder, unlocking fun bonus games which we'll talk about in a second.
This online bingo game has a bright colour scheme. It is set against a colourful backdrop brimming with bunting. If you're familiar with Slingo games you'll recognise some of the symbols. The Joker with a red hat will enable you to mark off any number in the column above him to help you complete Slingos.
The super joker has a green outfit and a lighter background, enabling you to mark off any number on the entire grid. You'll want to avoid the devil, who is an obstacle and will block you from matching numbers.
Coins are 10p, going up to 10 coins for 6 spins. Adjusting your betting level adjusts what prizes are available. The minimum betting levels has a betting prize of 1000 which will climb to £100,000 if you bet to the max.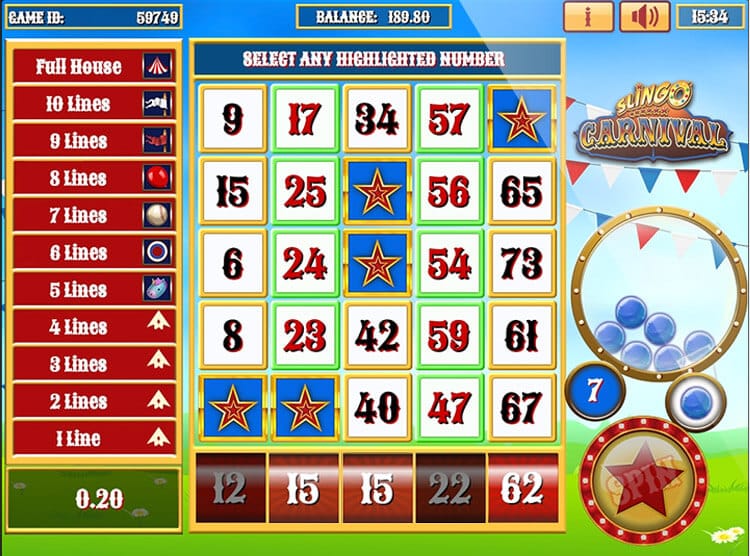 Bonus Features and Free Spins in Slingo Carnival
This online bingo game is brimming with bingo bonuses. Firstly, there is the free spin symbol. Landing one of these on the bingo card will reward you with an extra spin.
Like the other Slingo games, Slingo Carnival also gives you the opportunity to buy extra spins in the game. With these extra spins you could potentially complete a line and win a huge prize. Beware of how much these spins cost, though. The higher the chance you could win something with the extra spins, the higher the cost will be to the player.
Completing 5 or more lines in a game will place you in one of the following bonus games:
 Toy bonus - Pick a toy and win a prize based on that choice.
•    Target time bonus - 50 targets spin round and reveal different winning values. You have the chance to play four increasingly generous rounds with multipliers going from 0.5 to 10.
•    Bottle toss bonus - Take three throws to reveal multipliers with values between one and five. Some of the bottles can reveal extra balls to use in the bonus game. Knocking down all of the bottles with two or more balls left in your hand will triple the total amount you win in this round. Having one ball remaining doubles that win.
•    Balloon popper bonus - Take four throws and reveal multipliers between one and five. You can reveal extra darts behind some balloons. Having three or more darts left after popping all of the balloons will multiply your total win by four. Having two darts left triples that win, and one dart will double it.
•    Coaster climb bonus - Keep gambling your win and see if you can spin the wheel and get lucky enough to reach the top of the roller-coaster, where you collect your prize.
•    Log ride bonus - The same as the coaster climb - keep spinning that wheel until you move to the top of the log flume ride.
•    Whirl winnings bonus - 12 different multipliers will start to spin round on your screen. The value that lands above the arrow is the one you win.
Last Thoughts on Slingo Carnival Online Slot - Hir or Miss?
The variety of bonus games makes this online bingo game an exciting play. No two sessions are likely to be the same, leading to an absorbing playing experience. The graphics are good, and the ease of gameplay allows Slingo Carnival to also appeal to players who are new to online slots.
Barbados Bingo offers numerous games like this, such as Slingo Fortunes Slot.