Spinlotto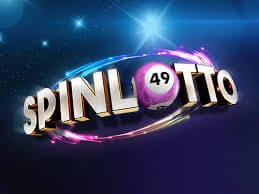 It's impossible for you to have never heard of a lottery before, where you buy a ticket and pray that the numbers on there would help you win that £1 million jackpot that you've been wishing to have for years.
The excitement of watching the lottery machine spit out the winning numbers can wear off in time, especially when your chances of winning are very low. But what if I tell you that your love for the lottery can be reignited again, where that chance of you winning are multiplied? Well, Gamevy has released a new online casino game that definitely puts a spin on the lotto. Ironically, it's called Spinlotto, available to this new bingo site UK!
Quick Links: Twinkle Jackpot | Candy Spins | Battle of Red Cliffs Slot | Ozwins Jackpot | Boss Bingo | Gonzos Quest | Nacho Libre Slot | Guns n Roses Slots | Sugar Train

About The Developer
Whenever you hear of a new iGaming studio that's just starting to break the market, you have to put a little faith in each and every one of them that they will make some of the best and advanced online casino gaming products in the industry. Many people have placed their faith in the London-based startup developers, Gamevy, and their faiths did not go to waste!
The great minds behind the name have worked for many renowned companies in the UK, such as John Lewis, The Guardian, and the BBC Worldwide. And they did not want to leave the skills that they've learned from those companies on the back burner, and embedded them into casino games that are already being spoken of amongst avid game players and operators, such as The Link.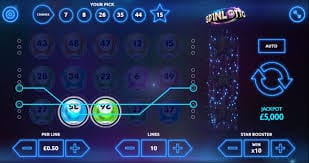 About The Game
This online slot game isn't as hard as you think it is. You play in a similar way that you would when collecting your lottery ticket, where you choose your numbers that will range from 1 to 49, which will also appear on the 3x5 reel grid.
You'll only need 2 of the same numbers to win to present itself, and then you move along to a star figure that will range from 1 to 15. This can either add a bonus to your total wins or make a single match a winning combination. If the 11 numbers you've chosen appear on the reels, you'll make a win. It's good to mentioned the different types of jackpots you could win.
• Normal Jackpot: If 5 of the lucky number appear on the reels along with the star booster, you'll win a x10,000 prize.
• Mega Jackpot: If you get all of your numbers on the reels along with the star booster, you'll win a x100,000 prize.
• Spinlotto Ultra Jackpot: If you get all of your numbers in ascending order, without any repetitions along with the star booster, you'll win a x1,000,000 prize.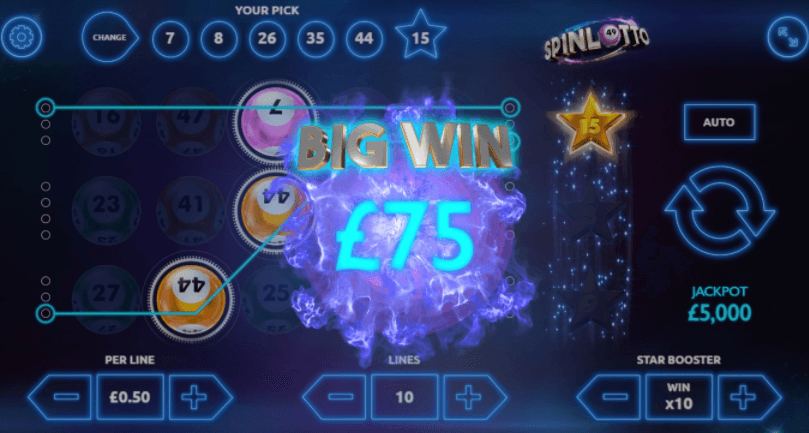 The Verdict
Knowing how to make a win on Spinlotto can be quite difficult to get a grip on, but once you start the game and get the ball rolling, you begin to get the hang of it. Nevertheless, the developers have brought an iconic concept to this slot game which not a lot of online casino players have seen before, which showcases its appeal. So, if you feel like you want to win the lottery in a different sense now is your chance! Players who are in search of new and fun-filled one experience, we recommend trying bingogames.
If you enjoyed Spinlotto why not try Bonanza online slot.