Neon Rush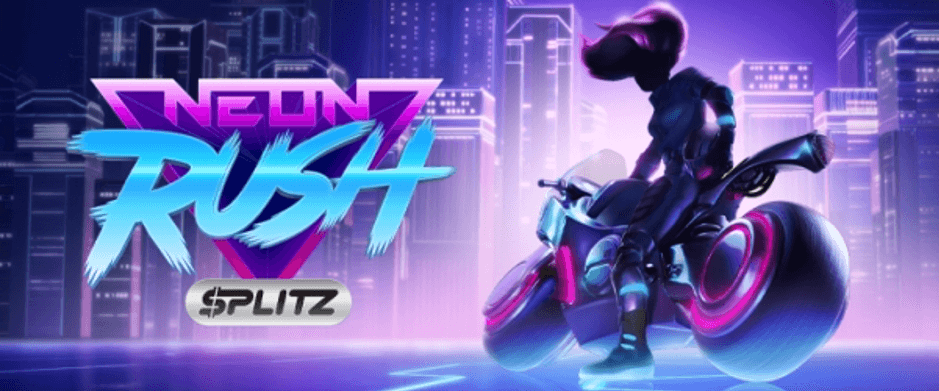 The fast paced world of neon lights awaits in the adrenaline-fuelled slot game Neon Rush. Bright, futuristic gameplay is on the cards (or reels) here and there is no choice but to spin this action-packed slot game and see just how much you could take away.
 Not built for the exciting world of slot games? No matter. Barbados bingo has you covered by offering you some of the best online bingo games out there. Whatever your preference, you cannot argue that you can't find the right casino game for you.
 With that in mind, who has made this intense slot experience?
Quick Links: Twinkle Jackpot | Candy Spins | Battle of Red Cliffs Slot | Ozwins Jackpot | Boss Bingo | Gonzos Quest | Nacho Libre Slot | Guns n Roses Slots | Sugar Train

Yggdrasil Gaming - The Developers of Neon Rush Slots
The online slot game, Neon Rush, is developed by slot game developing titans Yggdrasil Gaming. If you are up to date with the online world of slots then no doubt that you have heard of this fantastic company. They have created such wonderful slot game experiences such as:
Victoria Wild
Cheery Pop
Vault of Fortune
Football Glory
Jackpot Express
Medusa Fortune and Glory
It appears that there is no limit to the creativity that the folks over at Yggdrasil possess and Neon Rush puts that talent to good use. They have assembled an exciting slot game that can rival some of the brightest slot machines out there as well as some of the on line bingo games on Barbados bingo.
Since I have mentioned the game's presentation a lot already I'm sure you are dying to find out how the game plays. Well, let's take a look.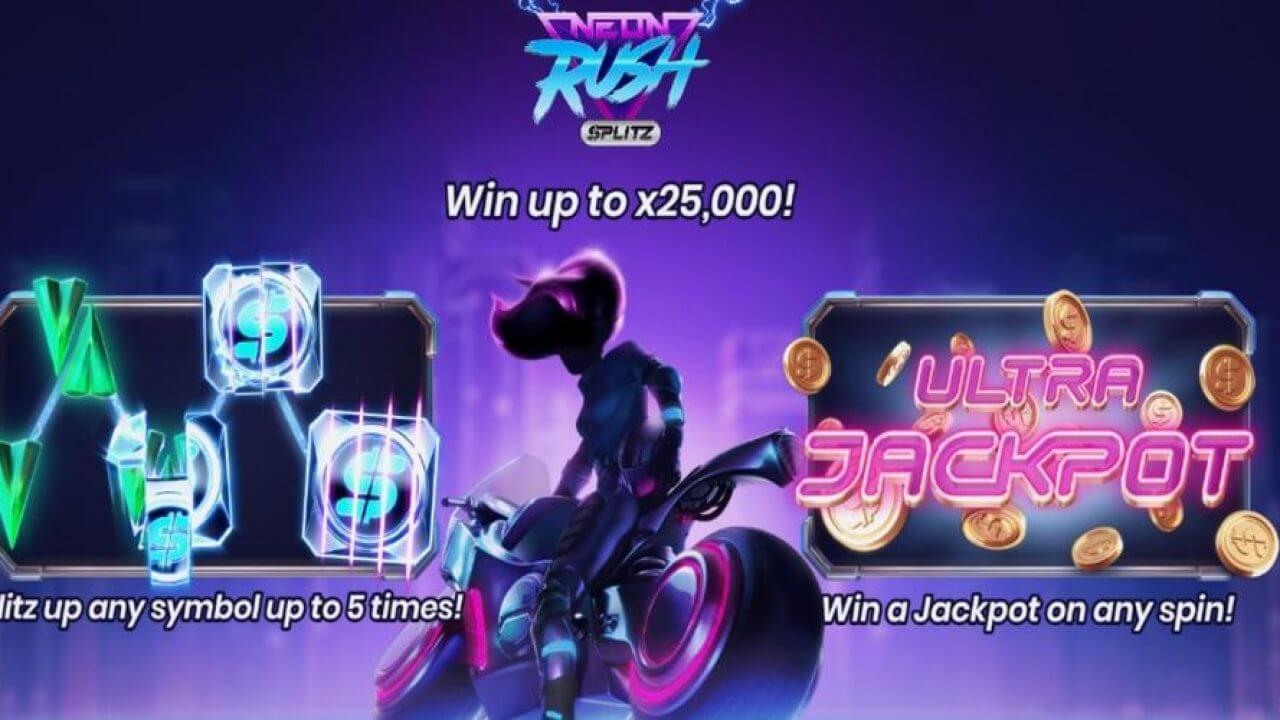 About Neon Rush
Neon Rush takes place in a futuristic city. The player takes control of a superbike that would make fans of the movie Tron jealous.
 The aim of the slot is to match the games symbols across any of the 5 reels. These symbols are made up of a variety of gemstones and brightly coloured shapes. By matching the ink or green stones the player can win up to 500x their max bet when getting 15 in a combo.
 The required bet for this game is 2 to get going and the slot offers players a 96% RTP rate. That is a high chance of winning if ever there was one.
 If slot games are too volatile for you then I highly recommend trying your hand a few of the bingo games at Barbados bingo. You won't regret it.
 Since this base game seems quite simplistic in terms of gameplay, what else is on offer in Neon Rush?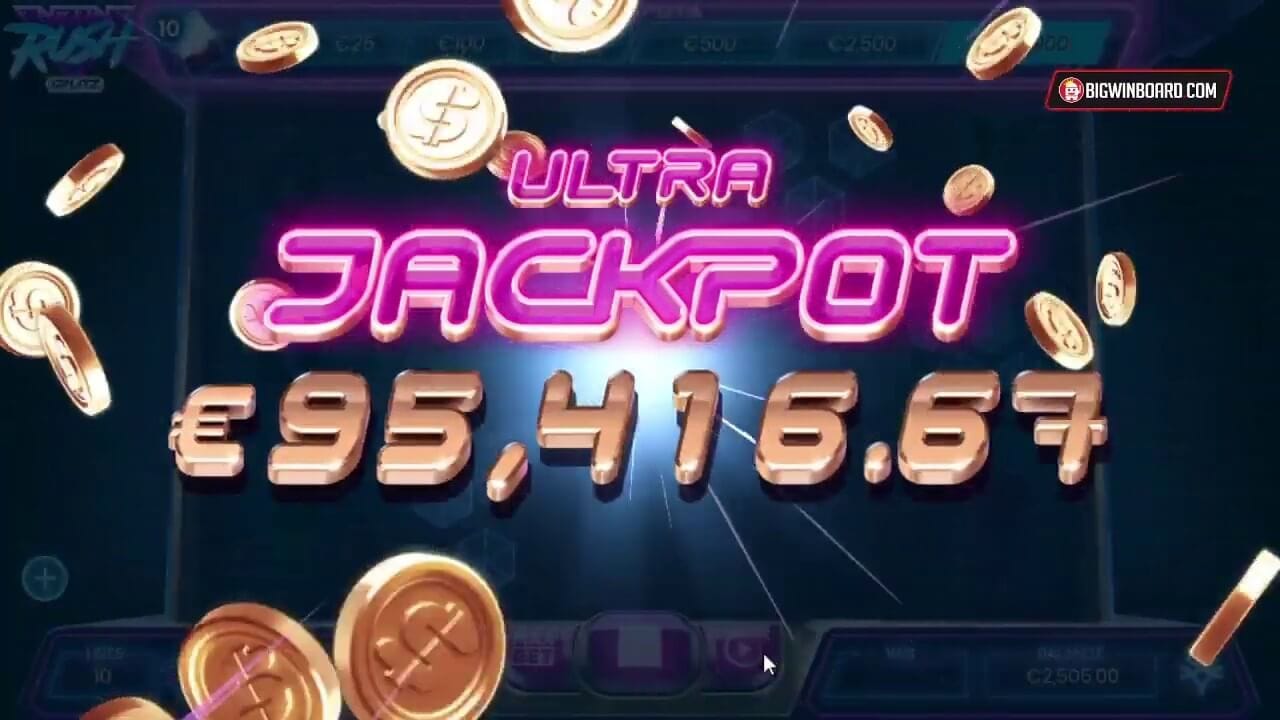 Bonuses & Extra Features in Neon Rush Slot Game
A free spins symbol also adorns the reels and by landing 3, 4 or 5 of these on a pay line you can earn up to 10, 20 or 30 free spins.
 Another symbol that you will see whizzing by is the Splitz symbol. This is a symbol that will split when landed adding more to the pay line. The amount the symbol splits is determined by what reel it lands on. The first reel will split once, the second twice, the third three times and so on. That is a chance of lining up an additional 5 symbols to increase your multiplier.
 That's not all the Splitz symbol does. It can also reveal one of 6 jackpot symbols. Each one has a different multiplier, the lowest being the rush symbol at 5x your stake and the highest being the ultra-jackpot at 25,000x your initial bet. This really is the slot that keeps on giving.
Our Verdict on Neon Rush
The bright and futuristic aesthetic of this slot lets players know instantly know that they are in for an intense time. This is no relaxed bingo game from Barbados bingo. This is a slot game designed to keep you hooked and chasing that jackpot from the get go.
 With such large jackpot and so many different ways to win, this is a game for the most hardened of slot players. New players might want to give this one a go as well if they like to learn by being thrown in the deep end. But be warned, Neon Rush is not an online slot game for the bashful.
If you enjoyed our review of this game, why not learn more about Lucky Riches Hyperspins Slot too?