Stampede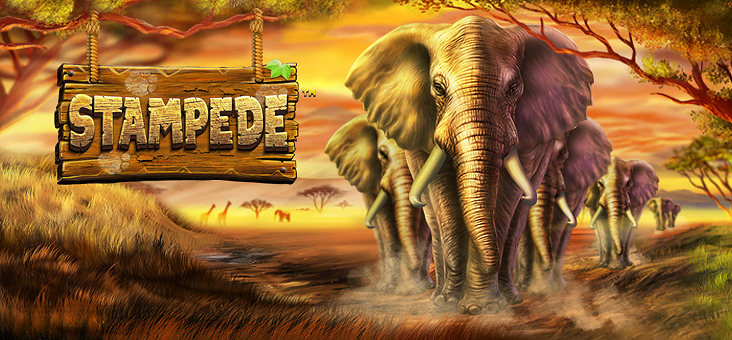 You may be used to the sunny scenes of Barbados bingo online free on this site. But on the wild plains of Africa, you face danger and excitement at every spin as you try and survive the relentless heat of Stampede. Somewhere out there is a Leopard stalking through the undergrowth, ready to pounce. Will you fall prey? Or become attuned to the African wildlands and the animals that call it home? This game will immerse players in a scorching setting with the soft brown and yellows reminding the player of the hot, arid landscape of Africa. A catchy tribal soundtrack helps whisk players away to a far off land full of exotic creatures and colourful cultures.
QuickLinks: Carnaval | Very Merry Christmas | 7s to Burn | Goldwyn's Fairies Slot | Lucky Irish | Centurion Slots | Zodiac Bingo | Pixie Slots | Pyramids of Giza

About the Developer
Created by a relative newcomer to the gaming industry, Betsoft has become one of the most well known and popular gaming brands. After being founded in 2006, they have gone from strength to strength. After creating fun and unique games they have branched out. Not only do they produce high quality and entertaining games like Stampede, but they also support Casinos with various management tools and online utilities. Their clients are worldwide and are safe in the knowledge that Betsoft is not only reliable but strives to seek out new opportunities and learn more, new technologies, and of course brilliant new games too!
Other popular Betsoft titles and bingo games include:
The Golden Owl of Athena
Legend of the Nile
Ogre Empire
Fire and Steel
Tigers Claw


About the Game
Are you brave enough to take on the unforgiving, scorching plains of Africa. It's time to go on Safari and explore in Stampede! You are greeted with a genuine evoking tribal sound and some well known animals from Africa including Elephants, Leopards, Giraffes, Gazelle's and Zebra's. With it's Sun soaked plains and tall, swaying acacia trees be prepared to take a trip of a lifetime. Match up enough Elephants to cause a stampede of winning!
ALWAYS WIN - Thanks to the expanded 4 lines on 5 reels, there is always a chance of winning something! In fact there are 1,024 ways to win on Stampede.
FREE SPINS - If you get 3 or more tree symbols lined up, this will trigger Free Spins. During the Free Spins mode, the chance of seeing Elephant symbols is greatly increased, meaning a higher chance of causing a stampede! But this game keeps on giving, even during free spins, you can win additional free spins.
WILD SYMBOLS - The generous multipliers of the Wild Symbols mean that during the Free Spin the value of the wilds can be increased 2x or even 3x. You could potentially earn a staggering 27x the winning value.


The Verdict
Offering a breathtaking view of the rolling plains of the African Serengeti, Stampede does well to take you away from everyday life and visit somewhere exciting, dangerous and full of exotic creatures. With increased chances of winning big, it would be foolish to pass over this game. There are 1,024 ways of winning across 4 spaces instead of the standard 3. You cannot lose! The sights and sounds of Africa and all it has to offer come alive in this adventurous safari.
If you're looking for some best bingo slots available, play Temple of Iris Slot right away.