Trick or Treat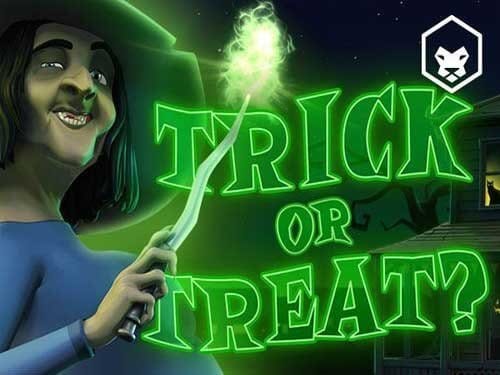 Do you love Halloween? This could the slot game to get you really in the mood whether it is October or not. You don't have to limit yourself to one month of the year to be able to play this slots game and you can have witches, ghouls and ghosts all day, every day, if you so desire. In fact, there is just so much magic flying around during this game that you will never want to stop playing, so long as you aren't too scared of what you might find! With free spins, a good jackpot prize and some fun characters mysteriously appearing, it is all to play for in the game of Trick or Treat. The only time to not play this game is perhaps when there is a full moon, but we will leave that decision completely in your hands, as you may be braver than we are! Play at the Barbados bingo online!
Quick Links: Twinkle Jackpot | Candy Spins | Battle of Red Cliffs Slot | Ozwins Jackpot | Boss Bingo | Gonzos Quest | Nacho Libre Slot | Guns n Roses Slots | Sugar Train

Leander – the Developers of Trick or Treat Casino Slot
Leander is one of the largest games developers currently known and are responsible for some of the most loved games ever played. They have an ever-expanding portfolio of nearly 300 games and are certified for these games to be played in 11, jurisdictions and 31 different countries including all major markets. Affiliated with 132 different casinos, it is clear just from this one piece of information just how highly thought of this company really is but we don't need figures to know that!
There is an enormous portfolio behind Leander Gaming and as they are partnered with 63 other gaming development companies, there is little wonder why you will see their name linked with so many big games. They have a wide range of themes to their games which are all well researched and varied in their style, aesthetic and topic, so there is plenty for any player to be able to choose from. Here are some of the big games that you may either have heard of or even have the fortune of playing on already:
Africa Goes Wild

Little Pigs Strike Back

Wild Jane the Lady Pirate

Fortune Fireworks

Kraken Conquest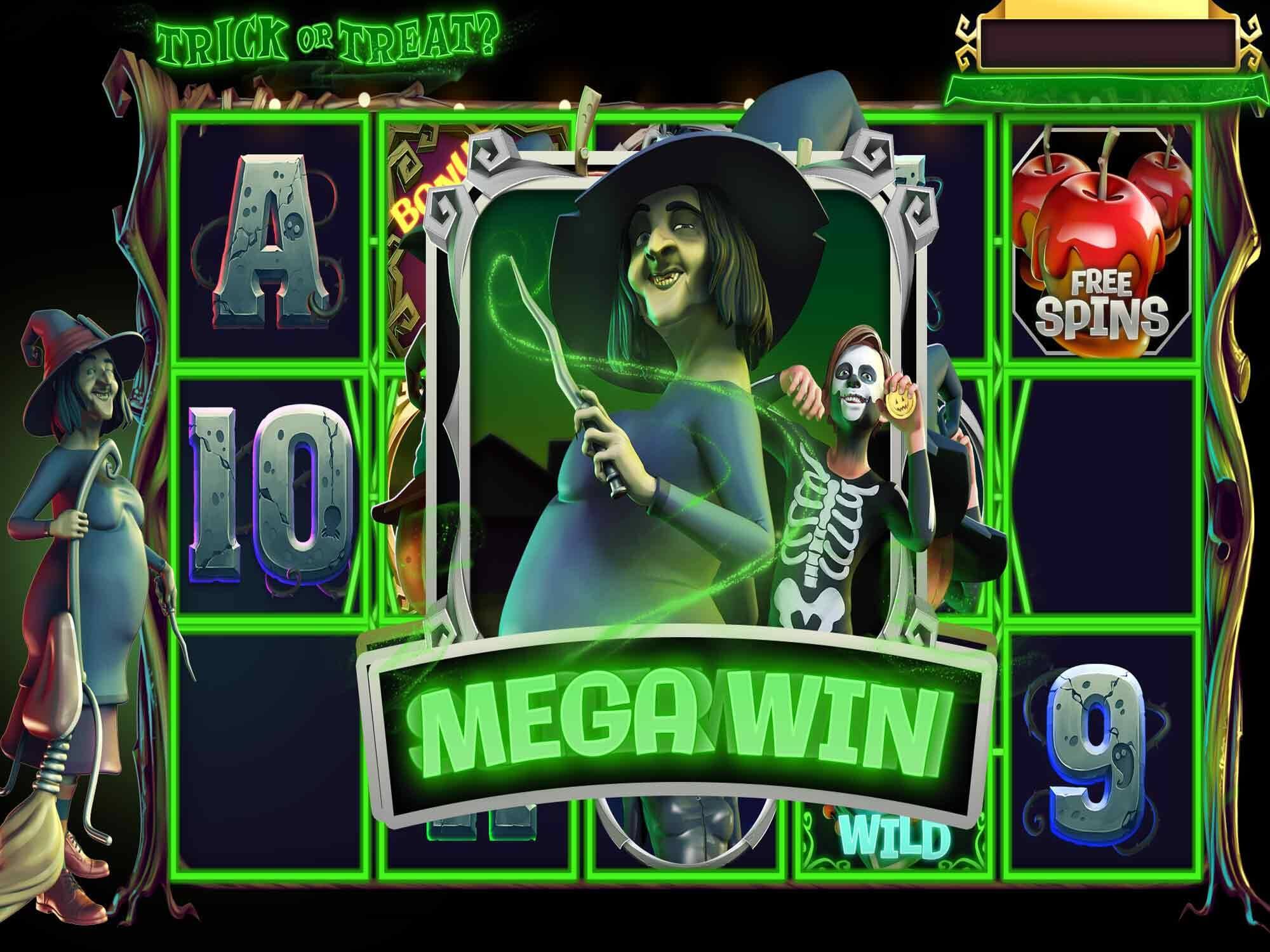 Playing the Trick or Treat Slot Game
Are you ready to play Trick or Treat? This is a fun slots game with a magical theme that has an RTP of 97.17% RTP. You have the opportunity to be able to win £100,000 if you are lucky enough to be able to do so and nothing nasty gets in your way. Start spinning those reels from a minimum of 20 up to a maximum of £200. This is a five reel, 20 payline slots game that can be played on any type of device. Having just had its third birthday, will playing this game be a Trick or Treat for you?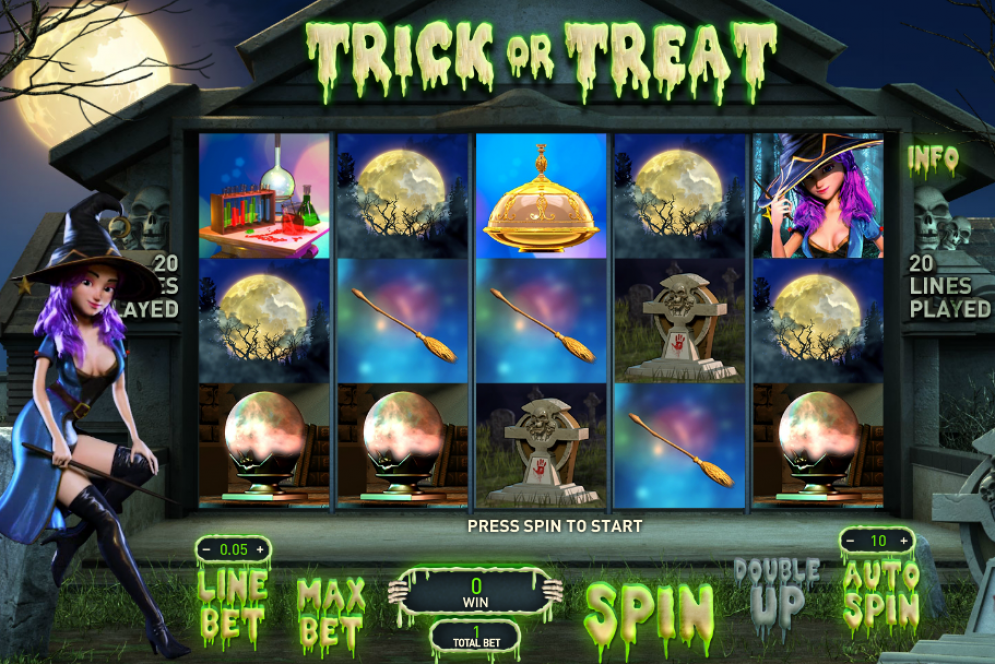 Trick or Treat Bonus Features and Free Spins
There are multiple different bonus features for you to play within this game. Watch out for the witch as she flies across your screen at any point in your game, casts a spell and magically transforms any number of reels so that they are all wilds. There is no way of triggering this and no way of knowing that this is going to happen as it is completely random. Secondly, if a pumpkin symbol appears on any of the middle three reels, then you will be redirected to a new screen filled with pumpkins. There will be nine in total and you need to click on all of them individually to reveal the symbols hiding underneath them. The idea here is that you can trigger a win by finding a winning three combination hiding underneath the nine pumpkins. You can win one prize or multiple prizes here which is a great aspect of this bonus feature. It acts almost like a separate mini-game and can be one of the best ways to win the most from the game of Trick or Treat.
Free spins can be won in bingo game online when you find the correct symbol on any of the odd numbered reels. You only need one of these symbols to be awarded with 7 free spins and during this free spin play time, some of the reels will magically change into wilds to help you on your way to becoming even more successful, making more winning alignments and winning more money overall. You will know when the reels have been turned in to wilds as there will be lots of potion symbols everywhere are these are the icons that represent the wild.
The final bonus feature is an interesting one and is the way in which a progressive jackpot can be triggered. But there is no way of knowing how this occurs as it is completely random but know that there is potential for a sizeable windfall here which is of great excitement to anyone who is fortunate enough to receive it.
Our Conclusion on Trick or Treat
Trick or Treat is a super fun Halloween themed game and though many people think this sort of game should only be played in October, we completely disagree. This is because the bonus features can be very effective and the aesthetics are so good in this game. But we would expect nothing less from a game developed by Leander gaming as they are one of the world's leading game developers so we know we can rely on this game to be satisfying in one way or another. We know that the bonus features are nothing extraordinary but nevertheless, they are still good fun, and the fact that many of them are randomly triggered leaves a great air of suspense over the playtime. The jackpot is of good size, and though it may not enable you to retire too early, it would mean that you could have the night off to go Trick or Treat in a stereotypical way. But perhaps you may have got too engrossed with the slots game to want to venture outdoors on a dark night…?
If you don't think this is the right game for you, why not try Win Escalator Slot instead.