Crossword Cash

Crossword Cash is a great example of how IWG (Instant Win Gaming) likes to cherrypick the best elements of instant win games and online slots to create top-notch gaming experiences. Fans of bingo slot games and count-down will relish the opportunity to find words with Crossword Cash.  Just choose your stake and turn over your letters 18 letters from the left panel.  The more words your letters complete from the crossword, the higher up the prize board ladder you'll climb.  Find 10 words and you'll be lost for words with a cool 150,000GBP.
Quick Links: Ave Caesar Jackpot | Big Bad Wolf Slots | Beverly 90210 | Santas Workshop | Holly Jolly Penguins | Enchanted Prince Slot | 20p Roulette | 90 Ball Bingo

About the Developer
IWG are a gaming developer who like to think outside the box with more than 10 years of industry experience in delivering outstanding content across multiple formats.  Although best-known perhaps for their lottery games and casino promotions, IWG have also developed an impressive and diverse range of more than 250 games including Super Cash Builder, Fast Buck Lucky and Mayan Bonus.  A particularly innovative aspect of IWG's approach is the way that they marry elements from different types of online games to create wholly new gaming experiences. IWG's creativity is complemented by their technological prowess as games are optimised for desktop, tablet and mobile devices.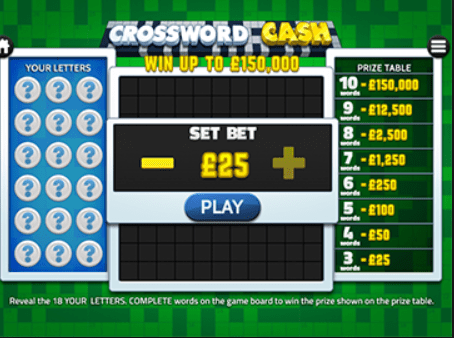 About the Game
Crossword Cash is another winner from the creative bods at IWG.  The game-board itself looks great - not overly complicated but clear and straightforward.  Turn over your 18 letters on the left panel, then see how many words you manage to find on the crossword itself.
Prize-board
The prize-board is located on the right-hand side of the screen and displays the number of words needed to win each prize level.  The higher you climb, the more money you'll walk away with.  If you choose to up your stake then the amount you can win at lower levels will also increase accordingly.   
Crossword Cash is optimised for mobile and tablet devices so that you can play for real money on the move.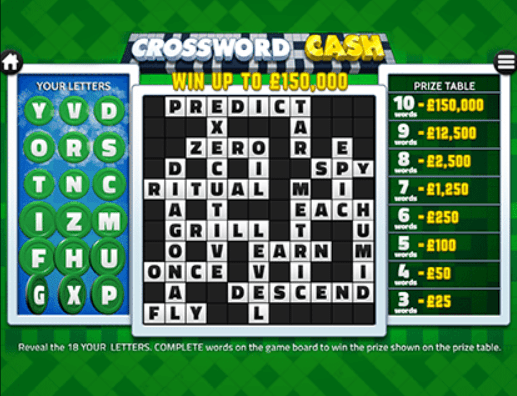 The Verdict
We've come to expect unusual yet highly entertaining games from IWG, and Crossword Cash certainly doesn't disappoint.  If you usually play more video slots than instant games, then Crossword Cash is a middle ground between the two.  Although the premise is relatively simple (almost a visualisation of keno), you'll find your-self talking to the prize ladder, urging you way up to the big bucks.  With a top instant win prize of 150,000GBP this is a little game that pays out some big money.  If you liked Crossword Cash then why not check out an-other titled from IWG?  We recommend bingo games like Super Cash Buster, Mayan Bonus or Mayan Legends.
Looking for more games? Challenge yourself and play today!