Diamond Deal


With Diamond Deal from Gamevy, you have to quite literally seek your fortune! The game design is reminiscent of an 80s game show, as you search through rows of identical boxes in search of a sparkling diamond prize. If you find one you'll get your reward in cash! Take care though, as you only have so many tries to be lucky in this bingo online UK...
Quick Links: Ave Caesar Jackpot | Big Bad Wolf Slots | Beverly 90210 | Santas Workshop | Holly Jolly Penguins | Enchanted Prince Slot | 20p Roulette | 90 Ball Bingo

About the Developer
Innovative and inventive, London based Gamevy is bringing something fresh and unique to the online gaming world. One of the newest companies on the internet casino scene, having started out as recently as 2013, Gamevy's work is inspired by the popular face of gambling; from game shows and lotteries to scratch cards and bingo. With smart graphics and flowing, straightforward play consistent features of their designs, Gamevy's steadily increasing portfolio is rightly popular with a growing army of fans.
If you enjoyed Diamond Deal, try these other Gamevy titles now available on our site:
Epic Gems
Red Card
Boss the Lotto
More of their games are available in UK bingo promotions!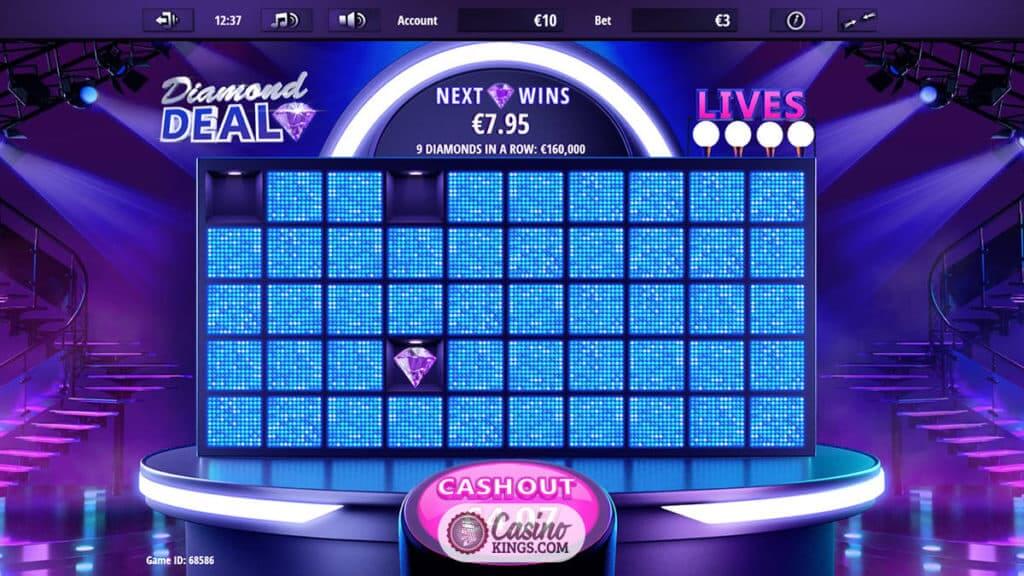 About the Game
Forget thinking outside the box, it's time to concentrate on what's inside it! In Diamond Deal, one of the best bingo games available, a fun take on the basic scratch card format, you have to sort through 50 of them to find the elusive gems.
Completely uncomplicated, you won't find a game that's easier to play than this one. Your stake is your crucial first step as this will determine the maximum jackpot amount you can win. Even the lowest value jackpot is a hefty 100,000 coin sum, but at the higher stake level you could earn a life-changing figure; 1,000,000 coins!
Once your stake is chosen you can start to play. You are faced by rows of identical boxes, all shining and full of promise, decorated with jewels. Somewhere in this grid 10 diamonds are hidden. You simply choose your box. When selected, the box will be illuminated so you can see the insides. More often than not, the box will be empty, but if you are lucky, you will see a diamond gleaming away!
Every diamond you uncover adds cash to your prize pool, but there's a catch. You only have 4 lives to play with, and every time you open an empty box, one is lost. You can keep track of your lives on screen as they are shown in the top right of the screen as 4 lights, with each extinguished as you lose them.
Once you find a diamond, you can access the cash out option and end the game, taking your winnings. Of course, the alternative is to play on. If you are hoping to land the jackpot, you must find all 10 diamonds within the confines of your 4 lives. It may not be easy, but it can be done!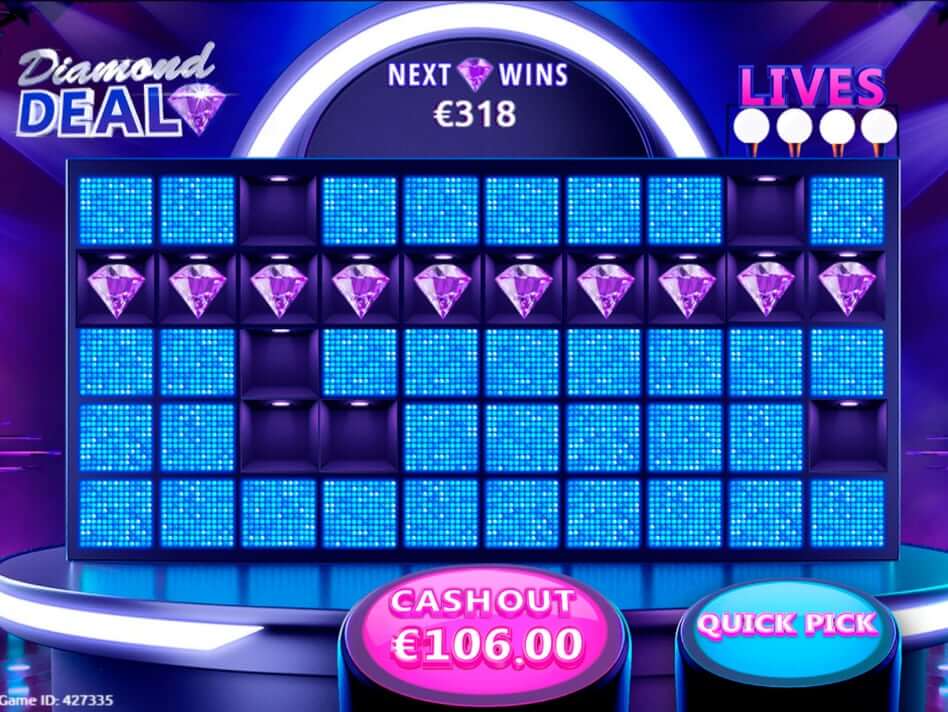 The Verdict
No need to worry about rules and bonuses, Diamond Deal is all about fun and excitement for little effort! Whether you like to play it safe or push for the big prize, this game can do it all. Ideal for new online players and experienced gamers looking for some light relief!
More games are ready for you to play now!