7 Chakra's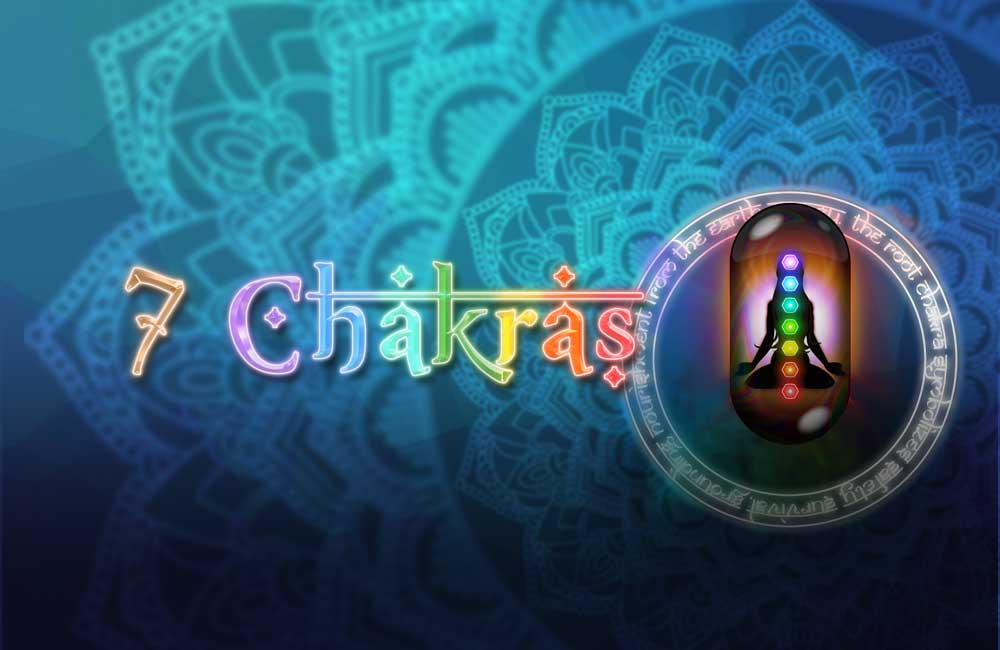 Centring itself around the idea of the energy centres of the body, this meditation inspired slots game is bright, light and calming to play on. There are seven different energy centres within a person's body and all of these are taken into consideration when this game is being played so you may actually learn something at the same time as being well entertained.
Having been released in the middle of 2018, 7 Chakras helps gamers to navigate their way through the crown, third-eye, throat, heart, solar plexus, sacral and root energy centres, each of which has its own symbol shown on your reels.
Whether or not you have an interest in meditation, yoga or have any sort of spiritual understanding, this is an enjoyable slots game which has a theme that has not been overdone by developers. Follow the seven different colours of the rainbow and see if you can find a sizeable pot of gold waiting for you at the end of it all.
Quick Links: Twinkle Jackpot | Candy Spins | Battle of Red Cliffs Slot | Ozwins Jackpot | Boss Bingo | Gonzos Quest | Nacho Libre Slot | Guns n Roses Slots | Sugar Train

Genii - the Developers of the 7 Chakras Casino Slot
Genii is not one of the biggest slots and free online bingo development companies that we have looked in to but it is certainly a big contender for the amount of success they are able to create. They like to be able to stay well ahead of their competitors, despite their size and have a tight-knit team of talented individuals who enable them to do so to the best of their abilities.
This has meant that they have already been responsible for many popular slots games such as Hercules the 12 Labours, Show me the Honey, and Lucky Leprechauns, to name but a few. Each member of the Genii team has many different qualifications behind them so they are able to give their all to their games and their players, to be able to provide everything that a newly developed game could ever need. Whether they are working on a game directly or working with clients, Genii excel at what they do for multiple reasons.
They have well-explored themes for all of their games, they ensure that they provide games which cater to all different levels of player and budget, and there are plenty of games for you to choose from so you stay well entertained for long periods of time. Genii may be small but they are certainly mighty!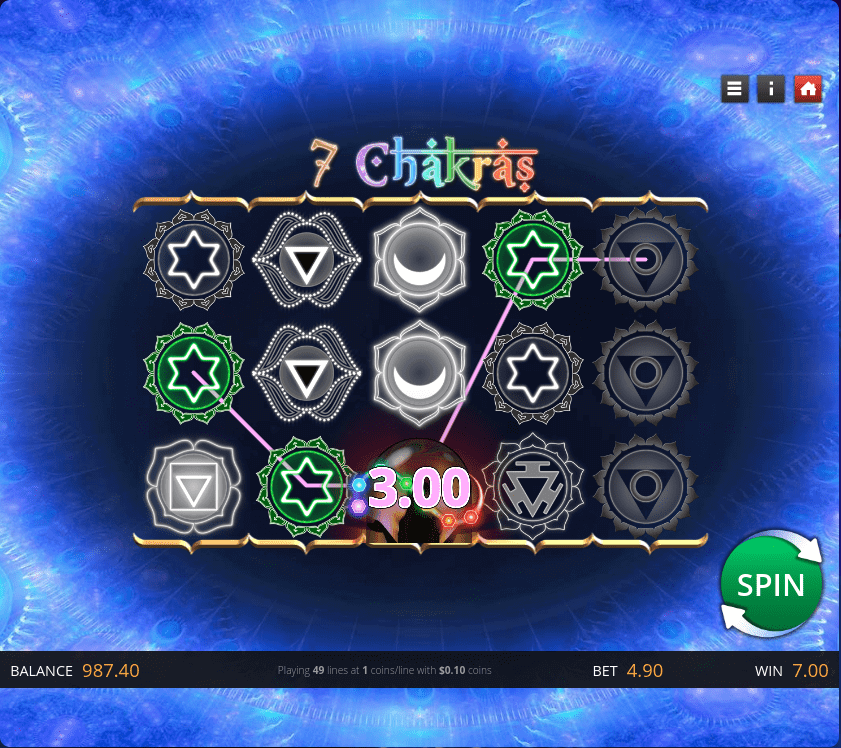 Playing the 7 Chakras Online Slot
Genii are the innovative Gaming Development Company behind the fun and popular slots game that is 7 Chakras which was released in June 2018. With an RTP of 95.88%, this low to mid variance slots game is not a high risk to anyone's bankroll and will see smaller returns on a frequent basis.
The largest possible jackpot prize that you can win whilst play this slots game is that of just over £15,000 and this can be done by placing bets from as little as 1p right up to £61.25 per reel spin. 7 Chakras is a 5 reel, 49 pay line slots game which has been created to be as accessible as possible so you are able to play in on any sort of device you would like.
Whether you are just wanting to play a slots game with a different sort of theme, want to play a game which links to an interest of yours, or if you would like to learn about chakras, energy centres and meditation, this is the slots game that you should be trying. Remember to pack your passport and set off on your journey through India and see where the path may lead as you start on your travels playing 7 Chakras.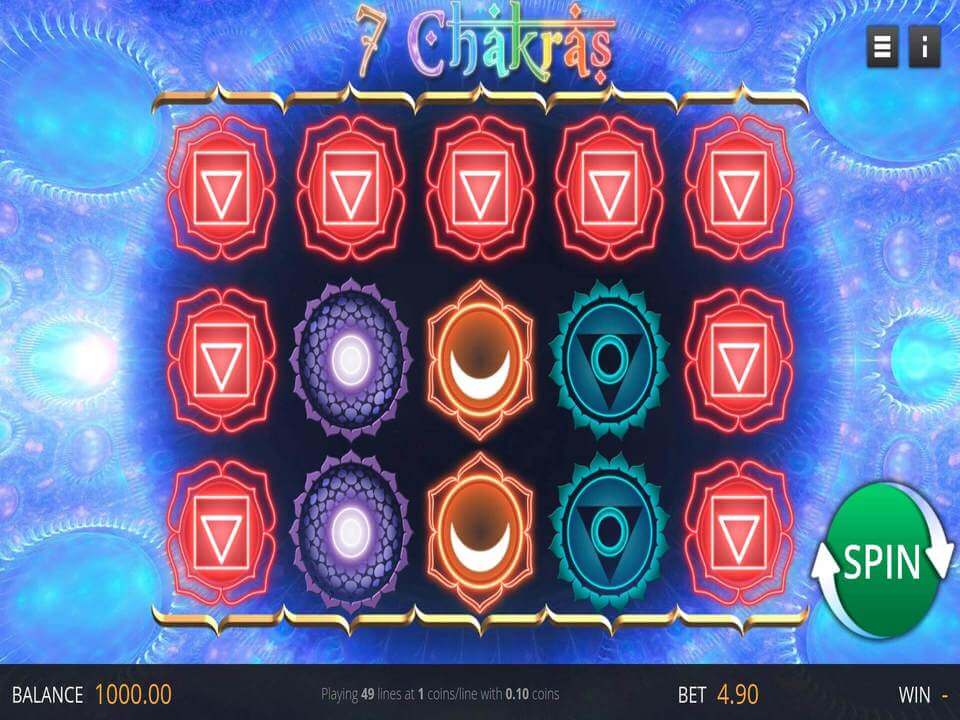 7 Chakras Slot Game Bonus Features and Free Spins
There are seven energy sources in the human body and each of these is known as chakras which are represented by their own individual symbol on your reels. Aligning some will be more fortuitous than others but you will have to discover which symbols are the high payers as you play 7 Chakras. When you find it, it will multiply your initial wager by 250 times giving you a big win instantly!
See if you can make any one of the symbols expand across the reels to increase your win. Align a minimum of three meditation symbols to activate the double high wild feature. Align a minimum of three rainbow lotus symbols to activate your free spins feature.
When you do so, you will be taken to an extension game where you have the opportunity of increasing the number of free spins. Five is the maximum number of free spins you can win at any one time, and though this may not be an enormous number, this does have the potential to give you a big win in return without you having to fork out any of your credit.
Players love 7 Chakras slots game for multiple reasons but one of the most popular is due to the double win feature which is where you have double the potential to be able to win. Most slots game only payout in one direction but 7 Chakras pays out for left to right and right to left.
Final Review of the 7 Chakras Slot
7 Chakras are not comparable to many other bingo game online and slots because it has so many different unique elements. Its theme has not been overdone, you can learn about a hobby and way of life as you play this slots game, and it is one of the most calming games we have ever played.
Whilst it is educational, it is also hugely fun and entertaining, along with offering a sizable jackpot of £15,000 for you to try and win. There are some fun bonus features to aim to take advantage of, and though none of them is particularly original, they will help you to increase your winnings quickly as you play.
Whether you expand symbols, win some free spins or activate the wilds, there is something that everyone will like in their rainbow coloured, meditation inspired slots game which explored the bodies energy centres and India, simultaneously.
If you don't think this is the right game for you, why not try Book of Oz Lock N Spin Slot instead.