Eggomatic

Robot Chicken is a show on the American tv channel Adult Swim, a channel that is notorious for offbeat/low-key comedy that requires a very particular pallet in order to digest. The comedy here is incredibly broad and experimental and Robot Chicken is one of those shows. The reason we are bringing this up is that this slot from developers NetEnt, reminds us a lot of Robot Chicken, in-fact the chicken mascot for the game is almost identical to the cyborg chicken seen in the show.
If we could also make another comparison then we would say that EggOMatic is also similar to Hotel Transylvania: a movie that has a very unique art style and premise. We make the comparison due to the premise of this game being a rather eclectic mix of symbols looking like mismatched hybrids of different elements and animals that all would fit perfectly within the film that we just mentioned. Try this UK bingo game and win amazing prizes!
Quick Links: Ave Caesar Jackpot | Big Bad Wolf Slots | Beverly 90210 | Santas Workshop | Holly Jolly Penguins | Enchanted Prince Slot | 20p Roulette | 90 Ball Bingo

About the Developer
In 1996 Net Entertainment was formed in Sweden as an offline casino operator, today NetEnt is one of the leading names in online gaming that now stretches worldwide. The ever-growing list of games that NetEnt have created have, if anything, inspired many other games within the market, this is something that is completely unheard of in modern day gaming, where re-inventing the wheel can be difficult when there is already a set path of creating a successful slot. More of their games can be played at bonus bingo promotions.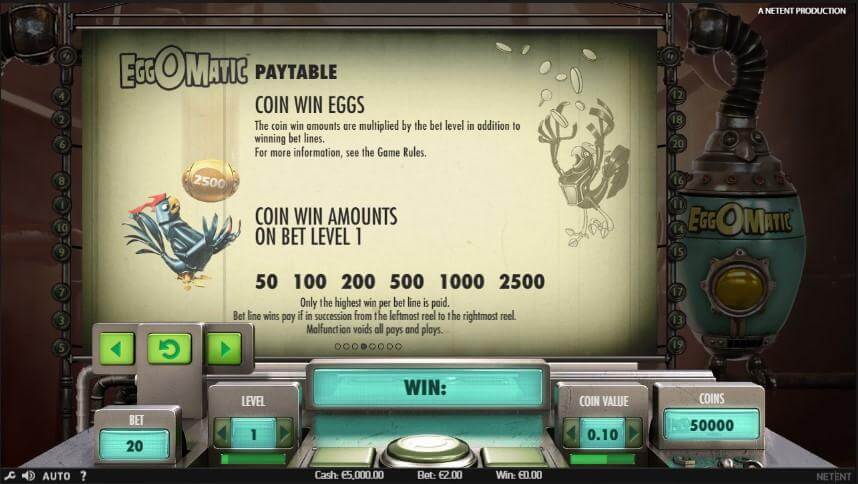 About the Game
Joining the NetEnt catalogue of great titles is the rather eggs-tremely poignant title known simply as EggOMatic: a game that is as fun as it is to use egg puns (there will be a couple in this review, we can only apologise now). This game is so addictive that it's quite confusing to think about. You'll often question why you are playing this 5x3 slot with 20 pay-lines/10 betting levels. There is lots to see and do in this game despite you maybe turning away from the game on name or face value. We highly recommend you give it a chance for this is a game worth your time and your attention. All it needs is a chance to crack that demeanour.
The game begins with a short video detailing the story of EggOMatic. The basic premise is based on a rooster who invents a machine called the EggOMatic to make more eggs. It's your job in the game to help this friendly rooster in making as much eggs as possible. He's quite a rich animal for having no pockets as he'll be giving you cash in hand for a job well done depending on the amount of eggs matched. The design leans very heavily on machinery which works very well for this type of game. It's definitely immersive and you'll never stop wanting to please the rooster (he's quite hard to please so the more you play the more chances at higher rewards).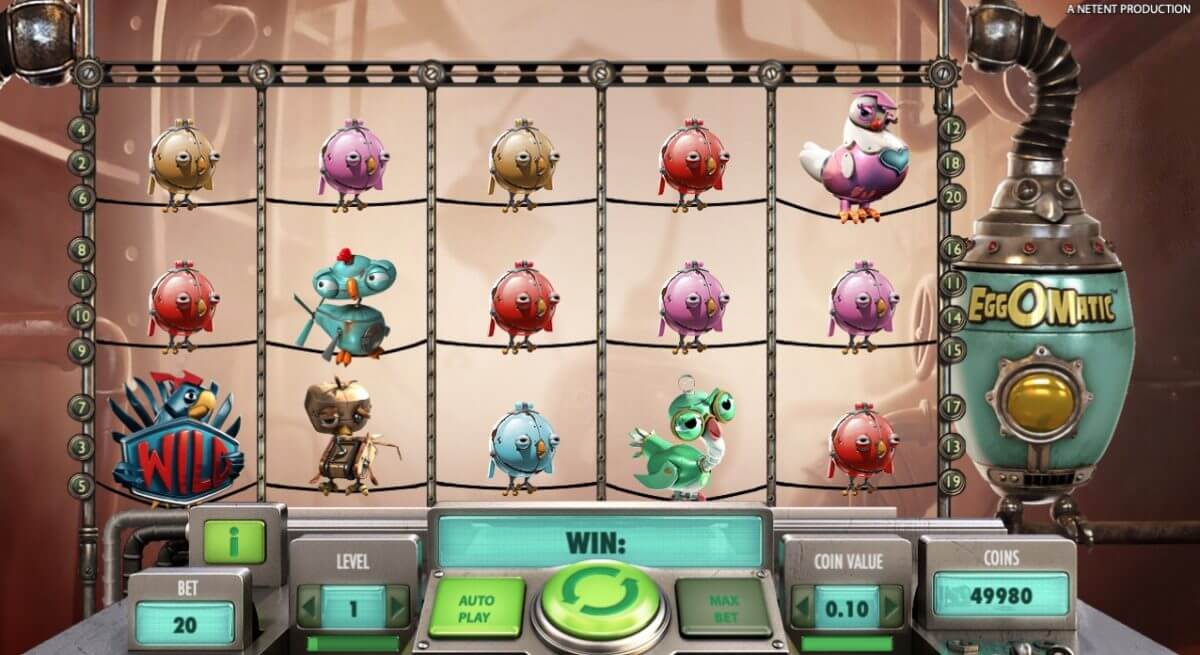 The Verdict
EggOMatic is a slot game that doesn't take itself too seriously which is why it works so well in grabbing players attention for long spaces of time. EggOMatic is most definitely worth your time, especially if you are someone who enjoys something a little offbeat and eye-catching when running reels upon reels in hopes of victory. Try some of our bingo games at Barbados Bingo!
If you enjoyed Eggomatic why not try Fluffy Favourites?