Epic Gems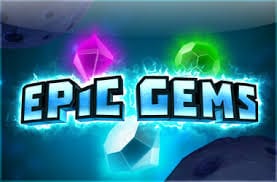 Epic Gems is exactly what it looks like – a completely unique gaming experience. Floating in a mysterious galaxy is a scattered collection of precious and beautiful crystals, each with the potential to add substantial riches to your waiting prize pot. All you have to do is collect them, but there's a lurking danger among the stars... beware of the hidden mines! Created by pioneering developers Gamevy, this is one super playable scratch card format that will give your day added sparkle.
Quick Links: Ave Caesar Jackpot | Big Bad Wolf Slots | Beverly 90210 | Santas Workshop | Holly Jolly Penguins | Enchanted Prince Slot | 20p Roulette | 90 Ball Bingo

About the Developer
Innovative and inventive, London based Gamevy is a team of developers bringing something a little different to the bingo online gaming world. One of the newest companies on the internet casino scene, having been incorporated as recently as 2013, Gamevy's work goes beyond standard slots and is increasingly inspired by the popular face of gambling; from game shows and lotteries to scratch cards and bingo. With stunning graphics and super slick, straightforward play consistent features of their designs, Gamevy's steadily growing portfolio is earning a multitude of loyal fans year on year. 
If you enjoyed Epic Gems, you'll probably like these other Gamevy titles now available on our site:
• Diamond Deal
• Red Card
• Boss the Lotto
More promotional games await at https://www.barbadosbingo.com!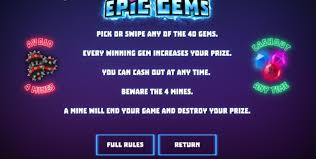 About the Game
Welcome to a glittering out of this world experience in this galaxy of gems! Your mission is to capture as many of these floating precious stones as you can, as each will add to your winning fund. There are rubies, emeralds, sapphires, and diamonds of all shades, each one outshining the blanket of stars behind them.
You won't find an easier game than this. Your stake is your crucial first step as this will determine the maximum jackpot amount you can win.
Once you have settled on your stake you can begin to choose your gems. Each jewel you select adds a random amount of cash to your prize pool. The ultimate goal is to collect seven of the gems in a row, as this will double your stake.
However, all is not as it seems among these treasures... your challenge is to avoid the hidden mines, as there are four of these lurking somewhere among the rows. Hit a mine and you will lose all the cash you have managed to collect and the game will end.
The game doesn't have to stop when you have seven gems collected, you can carry on as long as you like. But remember, the longer you go on, the more likely it becomes that you will hit one of those mines, and lose your carefully gathered prize fund, which is growing all the time...
Exciting and challenging, Epic Gems is one title that truly lives up to its name!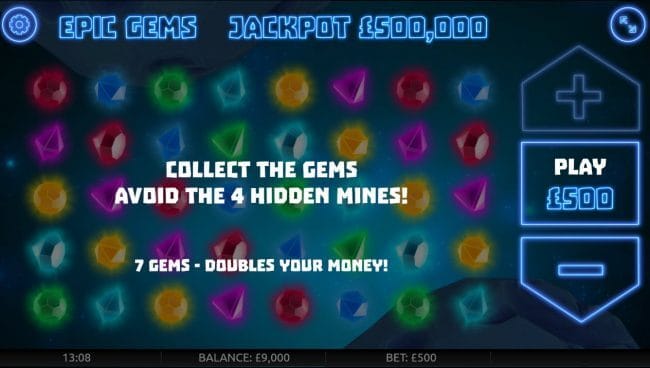 The Verdict
Epic Gems is colourful, engaging and so much fun to play! Forget trawling through a long list of rules or watching out for complicated bonus opportunities, this game easy to understand and even easier to win big with. One for new and experienced players alike, this is highly recommended. If you want to explore more of our bingo games, check out Barbados.
If you enjoyed Epic Gems why not try Fluffy Favourites spin game?